sharp Gallery Open Hours
Monday – Friday: 11am – 6pm
Saturday: 11am – 3pm
Sundays: Closed
Holidays: Closed
Exhibition Narrative
Janhavi Khemka, 2022
As a hearing-impaired person, for most of my life, I have found it difficult to express my innermost feelings, impressions, and reflections of my world to others through spoken language. At the age of 15, my mother passed away from cancer. She was my first teacher and my link to communicating with the world. She also created limits, barring me from learning sign language, and emphasized lip reading. When her death separated our very tight bond, I had to learn how to negotiate with the world around me. Art has helped me to look for meaning in smaller, intimate things- my hands, and their relationship to my world, sight, and touch. I see and feel a storm but I don't hear it.
My practice is focused on finding ways to translate my perceptions. Therefore, most works deal with my personal space, both mental and physical. Each work may be compared to a pin dropped on the map of my life: here is when I was hurt, cutting my hand on a piece of metal; here I picked myself up, finding my way home when lost at a carnival; here I made friends, finding a child who could accept my lack of speech; here I spread my wings, my first affectionate touch of another body. I am mapping my past and present. Most recently this mapping has extended to an installation-based re-creation of my living space. I created these using woodcuts, stop motion, and vibration material to invite the viewer to experience my interpretation of the world and reflect on the loss of my aural sense.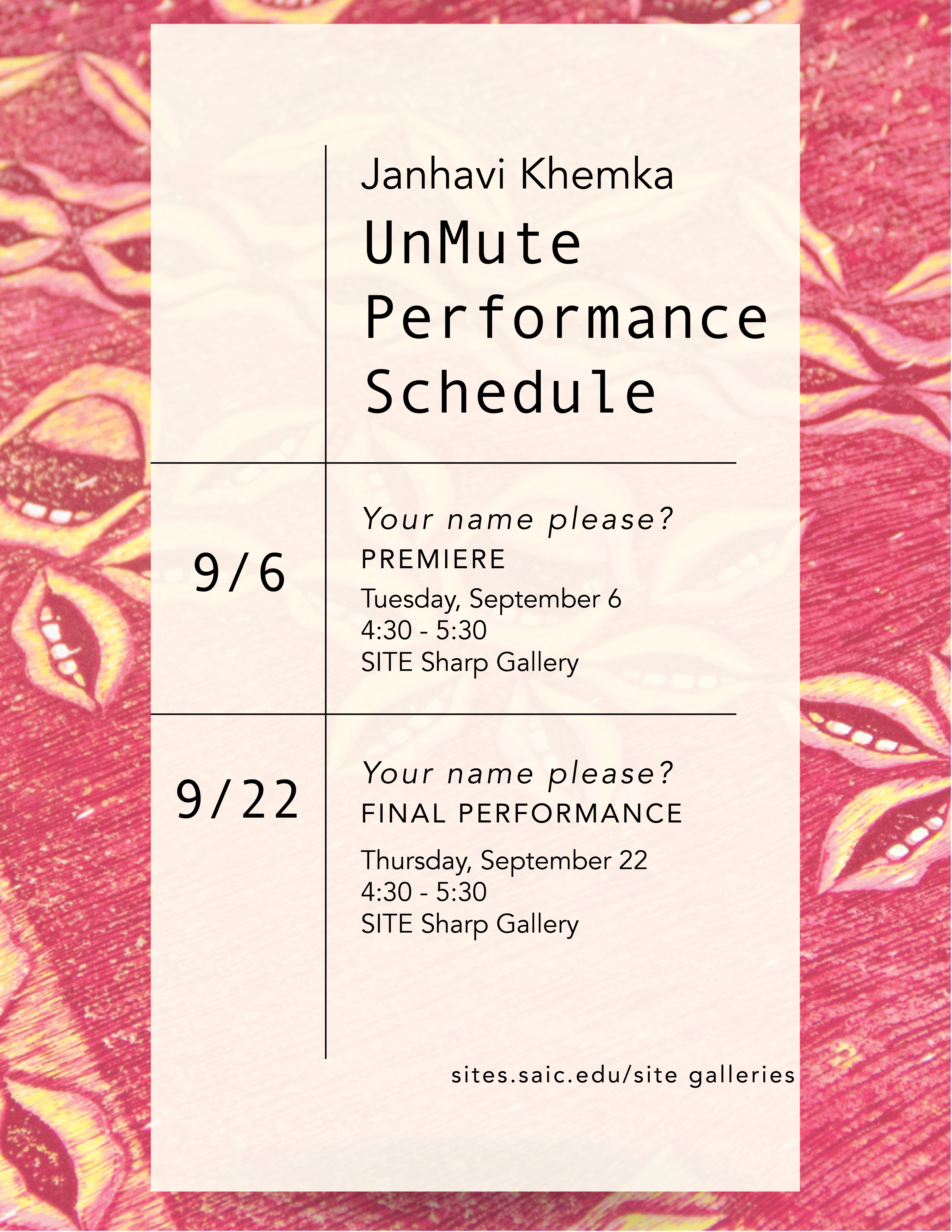 Your name please?
Tuesday, September 6
4:30 pm – 5:30 pm
Thursday, September 22
4:30 pm – 5:30 pm
This event will be hosted in SITE's Sharp Gallery 
Join SITE Galleries for two evening performances by Janhavi Khemka in conjunction with her solo exhibition, UnMute. Your name please? Is an interactive performance where Janhavi will be learning how to speak your name. 
UnMute will be on view in the SITE's Sharp Gallery from August 31 until October 1.
Persons with disabilities requesting accommodations should visit saic.edu/access
Your name please?
Janhavi Khemka, 2022
Language has many meanings and purposes in the world of communication. There is the language of art, the language of verbal expression through speech, and the language of lip reading. A spoken word is made of letters from the alphabet, many of which have similar kinds of pronunciations. To understand the exact word and the meaning while reading lips sometimes becomes a difficult proposition, because the visual expressions of some words appear similar–like Ma, Pa, Ba, Bha.
When meeting someone new, the first interaction we have is exchanging our names to each other. During Your Name Please? I invite members from the audience to sit with me. I ask participants to tell me their names, so I can learn how to speak it. Facing each other, we hold a coin together with our hands which vibrates as the participant speaks to me, helping me to understand the vibrations of their spoken language and recognize single words. We repeat this action over and and over. Until I am able to say their name well, they will not stand up.