Tracing with the thread –
Lace on enclosed tideland
A solo exh

ibition by Qinnan (Rivers) Zhu
Curated by Qinnan (Rivers) Zhu and Ating Weng
Tracing with the thread – Lace on an enclosed tideland is the first solo exhibition by Qinnan (Rivers) Zhu, co-curated by Qinnan (Rivers) Zhu and Ating Weng. The exhibition features 3 series of works by the artist, including collaborative works with women lacemakers in her hometown. Through re-investigating the history, culture, and heritage of the Xiaoshan Huabian (lace) 萧山花边 1 making technique, Rivers explores the regional influences on the local craft community, as well as constructs narratives relating to the laborious nature of the needle lace-making process.
The title of the exhibition refers to a geographic fact of Xiaoshan 萧山, a county located at the center of the Yangtze River Delta but hit by the Qiantang River all year round, thus becoming a semi-closed area. This unique geographical environment has created a conventional but stable labor force structure in Xiaoshan area that allowed the lace fabrication industry to develop. After Italian needle lace-making was introduced into Xiaoshan by Catholic missionaries, it gradually grew local characteristics, and eventually became known as the Xiaoshan Huabian (lace).
Born and raised in one of the original lace-making families in Xiaoshan, Rivers was able to observe the textile production process and also witness the mental and emotional disconnection between the workers and the objects they produced. Her interest in mending the relationship between the lacemakers and the lace-making process started at that time. Each work in the exhibit reflects her meticulous observation and reveals the physical trauma of lacemakers often left unheard and unseen. 
Following Rivers' ongoing research, the exhibition is divided into four parts; each part presents an aspect of Xiaoshan Huabian making techinique and her involvement with the process. 
Upon entering the space, the visitors will find the most recent collaborative work, Trace. This two-part installation is composed of seventeen Xiaoshan Huabian (lace) pieces and lace-making tracing drafts. To the left of Trace is another work: By river, a textile map made with Xiaoshan Huabian filling techniques, on which a moving image of Qiantang River is projected, referring to the historic maps of Xiaoshan between 1900 and 2010. On the other side of the gallery space, Stitch on Stitch is showcased alongside the entrance. This work is reminiscent of the female lacemakers' working process, which uses paper as backing support material instead of using Tombolo 2. In addition, archival materials are also placed in the exhibition space as supplementary visuals. Two video recordings of lacemakers at work are projected on the innermost wall, while a collection of Pangfu (Point) 旁扶 3 samples are presented on a pedestal.
Though the works and archives show different aspects of Xiaoshan Huabian (lace) making techniques and processes, they share a common narrative: region and culture, as well as accumulated time in crafts and the physical effects of labor. The exhibition provides an opportunity not only for Rivers to embrace and inherit her hometown tradition, but also provides a meaningful context for the audience to discover and engage in a gradually unheeded Chinese tradition.
Throughout the exhibition, two workshop programs led by Rivers will be organized in order to provide audiences with a more multifaceted experience of Xiaoshan Huabian (lace) making technique as well as a brief Xiaoshan Huabian history. Additionally, handouts will be provided during the exhibition, which will be a fully-fledged artistic project splayed with illustrations, writings, and research relating to Xiaoshan Huabian (lace).
1
Xiaoshan Huabian (lace) 萧山花边, also known as "Wan Lyv Si" 万缕丝, originated in Venice, Italy. It was introduced into Xiaoshan by Shanghai businessman Xu Fangqing 徐方卿 in 1919 and gradually became large-scale.
2 Tombolo: a cylindrical pillow
stuffed with straw or sawdust resting on a sort of overturned stool called"scagno", and used to make lace
. 
3 Pangfu (Point) 旁扶, innovated by the Xiaoshan women lacemakers according to the Italian Punto, presents as bridges in Xiaoshan Huabian (lace) and works to join lace patterns together.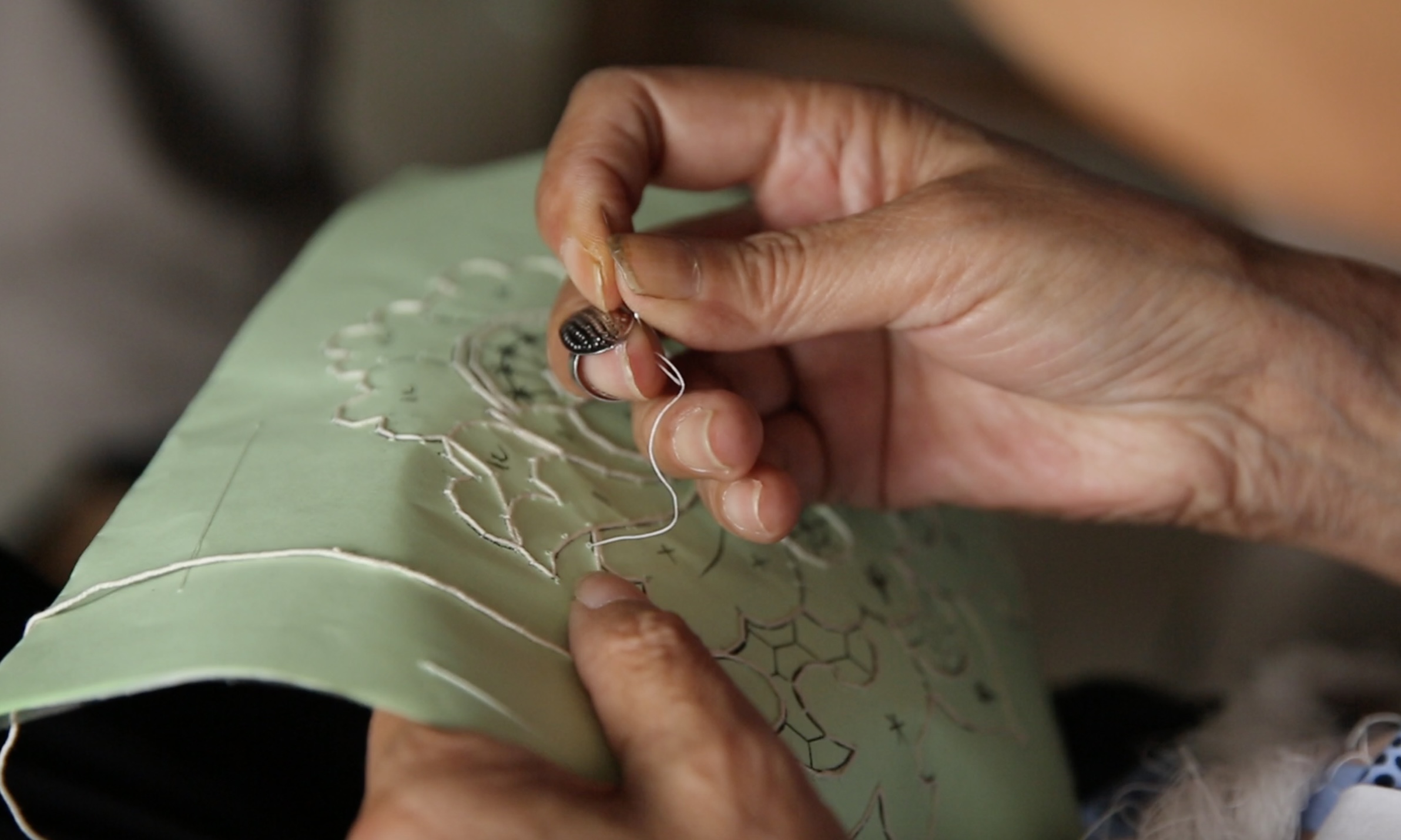 Through this exhibition, I want to present my involvement and experience with my hometown tradition, Xiaoshan Huabian (lace)  萧山花边, over the past two years. Based on my research on Xiaoshan Huabian making technique, I've created a series of works, including collaborations with my family and women lacemakers in my hometown. 
I was born and raised in Xiaoshan 萧山, a small town in the region south of the Yangtze River (Jiangnan) in China, and came to the States when I was 15. My family has been involved in the local traditional lace-making industry for generations. Lace, in my memory, is a distant but profound concept associated with my family and hometown. It is a technical process accomplished using only a needle and cotton thread, and is how many women in my hometown support their family. Although lace has become common in everyday products and museum collections alike, the makers have long been forgotten. My interest in this laborious traditional technique bloomed after I observed this disconnection between the lacemakers and the objects that they produced.
As a traditional handmade product, lace has a deeply rooted European origin, but also boasts a long local history in Xiaoshan. From the beginning of the 20th century, modern mass production has profoundly changed the meaning of hand-making. Lace fabrication was impacted by the boom of global economic trade and the shift to labor-intensive manufacturing, especially in places with large populations. On the 6th day of the 8th lunar month in 1919, a Shanghai businessman brought four Italian Catholic missionaries to Xiaoshan and gathered 24 women as the inaugural students of Italian needle lace-making in China. Since then, a lace industry has developed in the Xiaoshan area, and its significance has been engraved into the daily life of the Xiaoshan people. As a part of this community, four generations of women in my family have inherited this western tradition. Unfortunately, the dark reality was that they were unable to even afford the lace that they made. Instead, their work became transitional products, made to be sold overseas. 
Lace-making has caused me to reflect on the nature of labor as "punishment." In my mind, the refined, sensual feeling of lace contrasts strongly with my grandmother's rough hands. Thousands upon thousands of threads and hours upon hours of hard labor has consumed her eyesight. I starkly remember learning how these women would use detergent powder to take away the softness in their hands in order to prevent the lace from getting greasy. There is no doubt that lace-making inflicts physical damage to the lacemakers' bodies. In addition, the separation of design and labor within this folk art means that women were mostly limited to the physical work while male designers took control over the designing process.
The lace-making technique in Xiaoshan is transmitted from generation to generation in a non-verbal manner.  I hope that this exhibition and its corresponding programming events can work together to strengthen the relationship between the detached lacemakers, the lace textiles, and the viewers.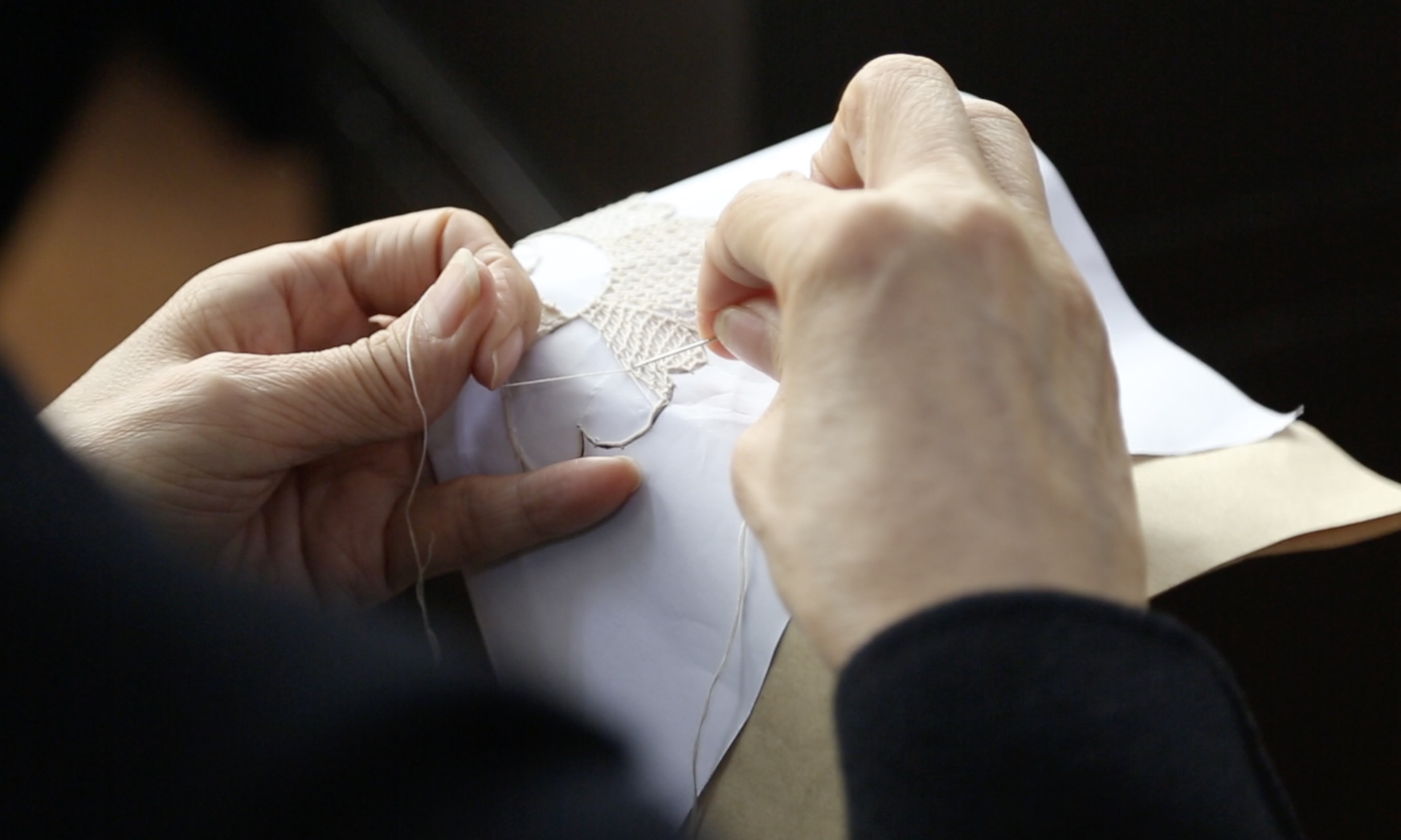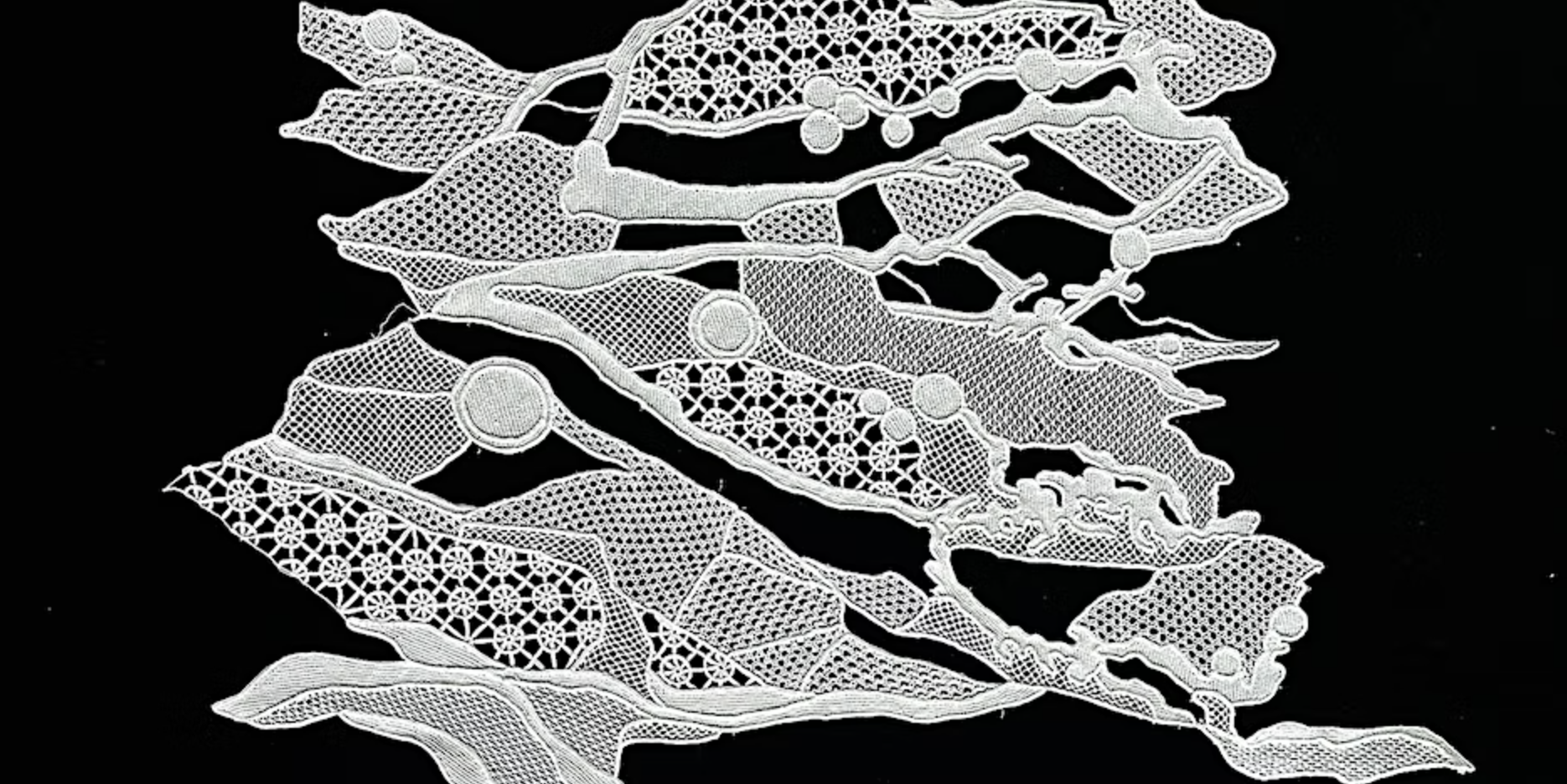 Tracing with the thread: Xiaoshan needle lace-making workshop
Thursday, April 20
5 pm – 6 pm | Sharp Room 1215
Friday, April 21
5 pm – 6 pm | Sharp Room 213
Register here.
As part of SITE's galleries exhibition Tracing with the thread – Lace on an enclosed tideland, Qinnan(rivers) Zhu will give two Xiaoshan needle lace-making workshops. Participants will practice based on demos to make an ornament during the workshop time. Printed materials and physical lace samples will be prepared in order to provide more visual references and a brief presentation on Xiaoshan Lace.
These workshops provide participants an opportunity to learn more about the history of Xiaoshan lace, the similarities and differences between Xiaoshan lace and European lace (based on regional thinking), and the physical feelings of intensive manual labor, thus providing a way to understand the exhibition theme and the exhibited works at 280 SITE Gallery.
Limited number: 10 people per session (two dates)
Photography by Verónica Rosas