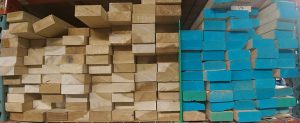 Purchasing & Payment
Purchases can be made by ARTICard ONLY.  You can add funds to your card at the ARTICard Office in Sharp Suite 254 during business hours or at any of the Value Transfer Stations around campus (Sharp 2nd Floor, Sullivan 12th floor lounge, Maclean Lobby, 280 S. 2nd Floor, 162 N State Lobby, Jones Hall 3rd Floor)
You must pay in full before any items are removed from Material Source locations.
Items not stored in Material Source locations must be picked up as soon as the purchase has been made.
Material Source cannot assist in the transport or storage of any purchased items.
More ARTICard information can be found

HERE
Returns & Exchanges
Returns and Exchanges require the following:
Your original receipts.  These are an itemized receipt from our point of sale system and an ARTICard receipt.
Your ARTICard.
The item you are returning.  The item/s must be unopened, unused, and otherwise in the same condition purchased.
 Items can only be returned at the location they were purchased.
 Non-returnable items include: personal protective equipment, items cut or altered after purchase, certain cut to size items.
 Returns may take time, please be patient.
Service & Pricing
Material Source seeks to serve all members of the SAIC community with the same level of respect and professionalism.  Customer service is a top priority!  We will do our best to ensure that the products we provide are readily available to the SAIC community with as few steps as possible for the customer. We can also assist our customers in sourcing products that we do not provide.
We work to price all of our items as fairly as possible to ensure that they are accessible to our customers. Final pricing is based on a margin over cost calculated by using aspects of receiving, packaging, storing, and replacing an item. Resulting margins are usually between 7% and 25% and usually will not exceed 50%.