SAIC's College Arts Access Program prepares Chicago Public Schools students for a successful future in art, design, and beyond
During the last class of the fall semester, high school senior Eric Perez meticulously works in a corner of one of SAIC's Columbus Drive studios. He pushes and pulls charcoal across a page with a new technique his instructor demonstrated. His fervent strokes follow his eyes as he quickly studies a large portrait pinned to the wall. A student at Thomas Kelly High School on Chicago's Southwest Side and an aspiring graphic designer, Eric talks about teaching himself InDesign and designing album covers for a few bands around town. He even designed his high school's logo. Today, covered up to his elbows in fine, dark grit, he is embracing more traditional art-making methods to better inform his design work.
Perez is a student in SAIC's College Arts Access Program (CAAP). Along with other select students from Chicago Public Schools (CPS) across the city, he spends part of his week working with SAIC faculty, utilizing SAIC's resources, and acquiring the creative and critical skills necessary for success at an art and design school or any post-secondary institution. He anticipates the chance to study visual arts in college next year, looking forward to acquiring formal instruction in design and being in an environment that lets him focus on his graphic art.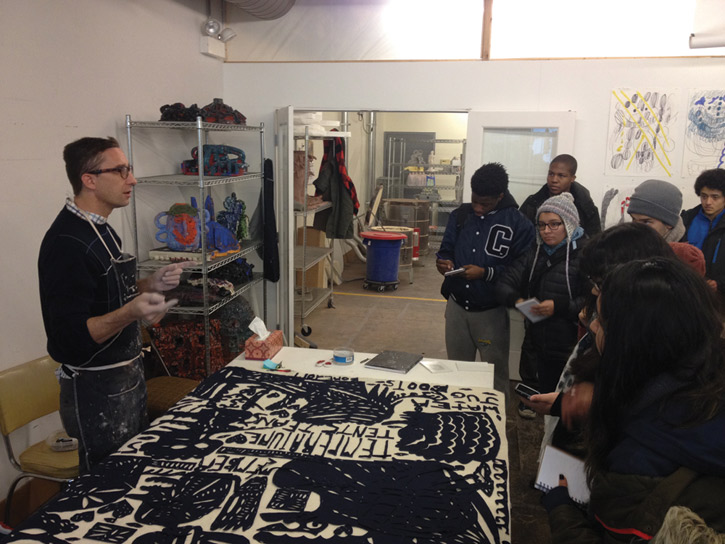 CAAP is a three-year college preparatory program, developed in partnership with CPS and supported by generous gifts from the Jacques and Natasha Gelman Foundation and The Grainger Foundation. CAAP provides the opportunity of an advanced arts education to exemplary students in the CPS system who are interested in pursuing art and design degrees. High school students enrolled in the CAAP program take classes offered in SAIC's Continuing Studies Early College Program (ECP). The courses are intensive, requiring a collegiate level of engagement that mirrors the foundational values SAIC strives for in its academic mission: collaboration, experimentation, and interdisciplinary practice.
An education team, including CPS educators and SAIC faculty, set out to identify and eliminate potential obstacles that may stand in the way of CPS students and a degree in the arts. Scholarships cover tuition, fees, transportation costs, meals, and materials. Students are also given individualized guidance through academic advisors and SAIC student mentors. The current student mentors are Walter and Shirley Massey Chicago Scholars, former CPS students who earned full-tuition scholarships to SAIC. However, the end objective is to create a full-circle community in which the CAAP students matriculate from the program, enroll at SAIC, and become the mentor leaders.
Advising is vital to the program. Leading up to graduation, students receive tips and instruction in portfolio preparation, college applications, career paths, and financial planning. If students choose to pursue an undergraduate degree at SAIC after completing CAAP, those accepted are eligible for Federal Work-Study jobs, grants, and special scholarships such as the Walter and Shirley Massey Chicago Scholarship Fund and the William Randolph Hearst Endowed Scholarship Fund. CAAP is not only a window into the sphere of creative careers, but a door. Bondgren speaks of the students' determination: "We set the foundation for them by saying, we are going to give you all of this, but you've got to work hard—and they are willing to because they see that the pathway is real."
We set the foundation for them by saying, we are going to give you all of this, but you've got to work hard—and they are willing to because they see that the pathway is real.
SAIC President Walter E. Massey adds: "I have met with a number of our CAAP students, and the commitment they have shown to honing their craft and pursuing a career in the arts and design has been tremendously inspiring. As one of the nation's premier schools of art and design, it is incumbent on our school to sustain and support our homegrown talent and to help prepare these emerging artists and designers for a successful, and creative, future."
The program takes three years, including a two-week summer session after junior year, in which the students live and study on campus for an immersive collegiate experience and residency program. While students are able to tailor their course schedule to their interests (choosing from a selection of 30 to 40 SAIC classes), four courses are a fundamental part of the program's design: Inside Innovative Minds, Artist Materials and Techniques, Advanced Projects, and Exhibition Prep.  
In their first semester of CAAP, high school sophomores take Inside Innovative Minds, a course that exposes them to a breadth of creative career paths. Presenters have included curators, graphic designers, art administrators, gallery directors, art educators, internationally renowned artists, and even a synthetic color chemist. This first semester also incorporates field trips to artist studios, galleries, design firms, and the Chicago Architecture Foundation.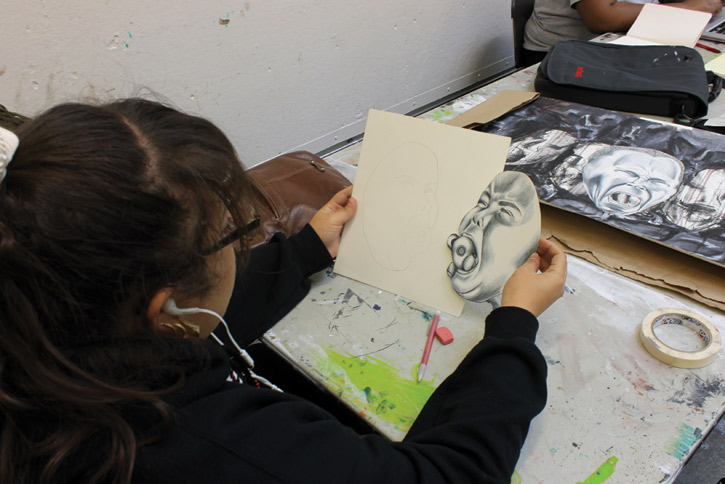 As high school seniors, in their final year of the program, students take Advanced Projects, which prepares students to apply to college, exhibit their work, fine-tune their artist statements, and dive deeper into critical discourse.
Perez was one of five seniors recently preparing his portfolio for the studio component of the Advanced Projects course, which consists of three major projects: one collaborative and experimental, using appropriated group drawings; one tangible, touching upon the idea of "the collection"; and the last, abstract, leaving students to interpret the idea of "time." The prompts are intended to give students a springboard for ideas and lead to the kind of competitive portfolios colleges seek. They also remain open-ended so that students are able to explore media and concepts. 
Jennessa Martinez, a senior at Northside College Prep, and Cydney Kimmons, a senior at Jones College Prep, are taking different approaches to the "time" project. Kimmons's is a personal examination, simulating the passage of time through a self-portrait. Having the resources to draw with a tablet in Photoshop has made this her favorite project. She hopes to be a game designer, and plans to apply to engineering schools. Working across from her, Martinez admits that SAIC is her dream school. She takes a more conceptual approach, explaining how her project breaks down the relativity of time in a series of mixed-media abstractions. Concept is always important to her work and the class's thematic prompts have pushed what she explores in her art. "You work in and out of a flow, and these ideas really help you work in and out of your comfort zones," she says.
Perez, Martinez, and Kimmons are just a few of the CAAP students who come from all across Chicago to convene at SAIC. These students experiment with a variety of media and engage in scholarly dialogue with peers. They connect with creative professionals in the Chicago area, meet international artists, and develop impressive portfolios that culminate in group exhibitions and open studios. The future of CAAP, SAIC, and the art world at-large looks bright with these determined creatives on the horizon.