Laser Cutting at The Advanced Output Center
The laser cutters at the AOC are available to currently enrolled students, faculty and staff at SAIC. All users must attend an certification prior to using the laser cutters. [more]
---

Book Appointments for Laser Cutters
---

Get Certified  For Laser Cutters
---

Guides For Download
Laser Cutting Quick Start Guide
Trotec Vision Guide (PDF)
---

Materials Request Form (PDF) – This is a request to approve new materials for use in the shops and/or classrooms.
---

 Illustrator File Template – AI files with correct Artboard sizes for use with Trotec cutter.
---

View Approved Materials and Recommended Settings – This document consists of recommended settings for all the approved materials for laser cutting on the Trotec laser cutter.
---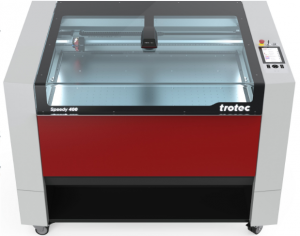 TROTEC SPEEDY 400 LASER CUTTERS
Location
AOC, 1232 Sullivan
Access
Self-serve, open to currently enrolled students, active faculty and staff;
Users must be certified prior to use;
See Access section for details.
Laser Specs
120 Watt C02 laser
Max Sheet Size
40"x24"
Max depth ranges from 3/8" to 1/2" depending on material.
File Types
Illustrator (.ai) vector file preferred, AutoCAD (.dwg), CorelDraw, SVG, PDF vector formats, and non-vector formats such as . JPG, . PNG, and . BMP
Material
Non-reflective, non-toxic flat sheet material. See Approved Materials List for details.
Applicable Fines
$50 minimum fine for irresponsible cutting, damage, etc. See Fines section for details.
Pricing & Fees
Free
Raster Engraving Estimations

These are rough estimations for raster engraving on the Trotec using 100% speed. If you go at a slower speed, times will increase. All times are in (minutes):(seconds). The DPI is changed on the print dialog just before sending the file to JobControl.

Engraving Size

DPI Selected

125 DPI
250 DPI
333 DPI
500 DPI
600 DPI
1000 DPI
3x3"
0:46
1:31
1:57
2:56
3:31
5:40
6x6"
1:57
3:47
4:55
7:23
8:52
14:22
12x12"
5:01
9:50
12:50
19:17
23:08
37:46
24x24"
14:21
28:18
37:10
55:48
66:58
110:00
39x24"
19:42
39:00
51:25
77:12
92:38
152:48
Questions? Email advancedoutput@saic.edu
---
Schedule an appointment
To use Acuity, use the embedded page below and select the resource you wish to use. Note, some resources have longer lead times than others. After making the appointment, you'll get an email with information about your reservation.
If the embed below does not work, you can also find the schedule here: https://saicscheduling.as.me/lasercutting
This Acuity page is for making appointments with the Advanced Output Center in the Sullivan Center. If you're intending to book time for laser cutting at 280 Digital Fabrication Studio, click here.