Paying for Self-Service Printing
Payment for self-service printing is completed using your ARTICard, the identification card for SAIC students, faculty, and staff. To see the balances for your payment methods, you need to log into SAIC's PaperCut customer portal.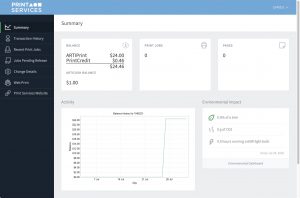 Once you log in, you will see a balance displayed. PaperCut will show your balance for:
ARTIPrint
PrintCredit
ARTICash
---
Account Descriptions
---
ARTIPrint
ARTIPrint funds are provided to each student each semester for color and black & white laser use only. Refunds for ARTIPrint are returned to your ARTIPrint and must be used before the end of each semester.
What you get with ARTIPrint
Degree students get $24/semester
Non-degree students get $12/semester
Black & white laser: $0.08/letter-sized page

Print 300 pages with $24/semester
150 pages with $12/semester
Save money by printing double-sided for more pages

Color laser: $0.45/letter-sized page

Print 53 pages with $24/semester
26 pages with $12/semester
Save money by printing double-sided for more pages
Manage your allotment carefully! If you use your entire ARTIPrint allotment, it will not be funded again until the start of the next semester. Once your ARTIPrint allotment has been exhausted, you will need to deposit cash onto your ARTICard in order to have sufficient funds to continue printing.
---
PrintCredit
PrintCredit is your balance within PaperCut. Usually, this will display as zero. Prints will first draw from ARTIPrint, then PrintCredits. If the combined balance of those Credits is not enough to cover the cost of the print, funds will be drawn from your ARTICash account. Refunds for prints drawn from ARTICash will be returned to the PrintCredits account and can then be used for printing.
---
ARTICash
ARTICash is personal cash which you can add to your account. You can deposit cash and have it immediately post to your ARTICard Accounts at one of five campus Value Transfer Stations.
For additional ARTICard deposit options, visit the ARTICard page here.
Once funds are deposited, ARTICash funds can be used for any self-service printing. ARTICash can also be used all over campus. For more information about other uses for ARTICash, visit the ARTICard page for more information.
---
Shared Accounts – Departmental Funds
Prints can also be paid for with Departmental Shared Accounts, which are allocated by the Administrative Director for staff, faculty, and student staffing. Any Shared Accounts you have access to will appear when you swipe your card at a self-service copier. You may see multiple shared accounts if you have access to them. Please pick the one appropriate for the work you are completing and then continue.
If you need to pay for wide-format printing with a Shared Account, you must download the Print Deploy and PaperCut Clients or print from a SAIC computer and select the appropriate Shared Account in the second pop up window which will appear after the authentication popup asking for your SAIC credentials.