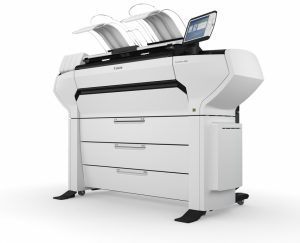 SAIC has 2 Canon ColorWave 3800 Printers for printing large color and grayscale posters, drawings, architectural renderings, and more. The printers are loaded with roll paper, and can print on rolls up to 42 inches wide. The configured print queues have pre-programmed page sizes with widths up to 42 inches and lengths up to 144 inches.
Both printers are loaded with identical supplies and print drivers are labeled North and South.
These printers are located in Sullivan room 1250. The room is available for use anytime the building is open. The printers are self-service and accessible to students, staff, and faculty.
Please note that this room is subject to occupancy limits. Availability and use are considered to be first-come, first-served. Please be aware others may be waiting to use this resource and exit the room once your printing or cutting tasks are completed.
A rotary paper cutter, table with cutting mat, iMac computer workstation, and print Release Station are also located in the room for convenience.
Prices are considered grayscale pricing when printing using ColorWave queues that have "BW" in the name. Printing a grayscale document to a Color queue may result in color pricing.

Color rate: $1.20 per square foot
Grayscale rate: $0.50 per square foot
Su1250_42inch_Oce3800-North_BW-Bond
Su1250_42inch_Oce3800-North_Color-Bond
Su1250_42inch_Oce3800-South_BW-Bond
Su1250_42inch_Oce3800-South_Color-Bond
Prints sent to the North print queues end up at the North printer, the South to the South printer. The installed print queues on your computer are pre-programmed with specific media options and settings.
The last 2 elements in the queue names denote the uses programmed in the pre-configured queue.
Last 2 elements of name are as follows:
Color: Color mode is set to color
BW: Color mode is set to Gray/Grayscale
Bond: Denotes prints intended for the 6024 Premiere Bond paper (see Media detail below)
Canon 6024 Premiere Bond  (click here for spec sheet)
The 6024 Premiere Bond paper ("Bond") has rolls loaded in 42 inch width. The paper widths and pre-programmed page sizes are selected to best accommodate the wide and varied range of use these printers receive, and to allow up to the maximum 42 inch width printable by the ColorWave 3800. 
An iMac computer is located in room 1250 and has the Canon ColorWave queues pre-installed. Use is available on a first-come, first-served basis.
Follow the instructions on the How To Print page for Printing from a Laptop. Once the PrintDeploy application is installed, click on Add Printers, search for keyword CW3800, and select Install

Due to Windows driver signing restrictions, we are unable to make this printer available for deployment to Windows computers via the PrintDeploy application. Individuals using the Windows operating system will need to save their file and use a public workstation to print the file. (See above "Where and How to Submit Prints" for more details). For best results, we recommend saving your file as a PDF and using Adobe Acrobat to print.
Use a computer to open your file (we recommend saving as a PDF and printing from Adobe Acrobat)
Use the File > Print menu and select the appropriate ColorWave queue from the 4 listed options.
Set your Page Size and Page Options to a page size appropriate for your document. You may need to rotate your document before printing to best orient it on the page.
Select Print.
Wait for the PaperCut Client dialog to appear asking for your username and password. This may take a few minutes depending on the size of your file. Follow all of the prompts until a dialog appears informing you that your document is held in the the hold/release queue. The print has is now held and will not be charged or printed until you release it.
Visit the Release Station on the north wall (to the right of the printer) in room 1250 and swipe your card. Follow the prompts to print your file. Your card will be charged at this time and the document will be printed to the printer pool.
Once the document is submitted to the printer pool, it will enter the queue and be printed on one of the available printers. If the printer hasn't been used recently, it may need to wake from sleep and warm up before printing your document. Please be patient during this process and leave ample time when printing documents.
Retrieve the print from the Top or Rear output tray on the printer.
I reached the final step of the process but something went wrong and I'd like a refund.

This is always the worst part of printing – you've put in all the tedious work of preparing and submitting your print, and it either didn't print or doesn't look at all right. We understand. Head on over to our refunds page for more details about getting your money back so you can print again.

The printer is out of toner or paper! Help!

We have set up the Canon ColorWave printers for redundancy and regularly check and proactively restock supplies based on supply levels and typical usage patterns. We also have automated alerts that notify our team when supplies are low or empty. But that doesn't mean things don't still go wrong sometimes. Visit SAIC Square to create a support case or call (312)345-3535. We'll do our best to respond as quickly as possible to replenish supplies, redirect your print to a working printer, or refund you – whatever is appropriate given the situation.

The printer screen is flashing and is displaying a message says the rear output tray is full.

A print is ready! Please step around to the back of the printer and remove the print or prints from the rear of the printer or the rear output tray so that the printer can continue operating.

The printer screen is flashing and is displaying an error message.

Do not try to use the screen or follow the prompts to resolve the error yourself. Please let us know if this is happening. It is helpful if you tell us the error code and error text, and the asset number of the printer (the label on the front of the printer will say C-1091-OD or C-1092-OD). To report a problem, visit SAIC Square to create a support case or call (312)345-3535

My print has banding (straight, horizontal lines of color variation in the direction of the 'long edge' of the roll)

While there may be a problem with the printer, this printer and print technology does poorly with large areas of solid dark color that cover most of the width of the page. It is possible to mitigate these effects somewhat by changing some of your print settings: Under "Printer Features" in the print dialog, set the Quality setting to "Quality" or "High Quality." By default, this setting should be set to "Production," which strikes the best balance between speed and toner usage for most prints. If you're unable to achieve the quality you hope for, this printer may not be the best printer for the task. If you'd like to know more, reach out to our team for a consultation.

I'm using the rotary paper cutter located in the room, and it's tearing up my paper

Please pay attention to the cutting direction of knife and only use appropriate media. Slide the blade all the way to the right of the cutter, insert your print under the guide, and move the knife from right to left to cut. If your paper does not slide easily underneath the guide, it is too thick to be cut by the rotary knife. Please do not cut thick paper media or items other than paper on this paper cutter as this could cause damage. If you believe this cutter is malfunctioning, visit SAIC Square to create a support case or call (312)345-3535