Re:Working Labor is generously supported by the Chicago Department of Streets and Sanitation; the SAIC Department of Film, Video, New Media, and Animation; the SAIC Department of Instructional Resources and Facilities Management; the Earl and Brenda Shapiro Center for Research + Collaboration SAIC; the Gene Siskel Film Center of the School of the Art Institute of Chicago; Goethe Institut—Chicago; the International Research Centre "Work and Human Lifecycle in Global History" at Humboldt University-Berlin; the SAIC Visiting Artists Program; and by a grant from the Illinois Arts Council Agency. This exhibition is part of the Year of German-American Friendship initiated by the German Federal Foreign Office and the Goethe-Institut, and supported by the Federation of German Industries (BDI).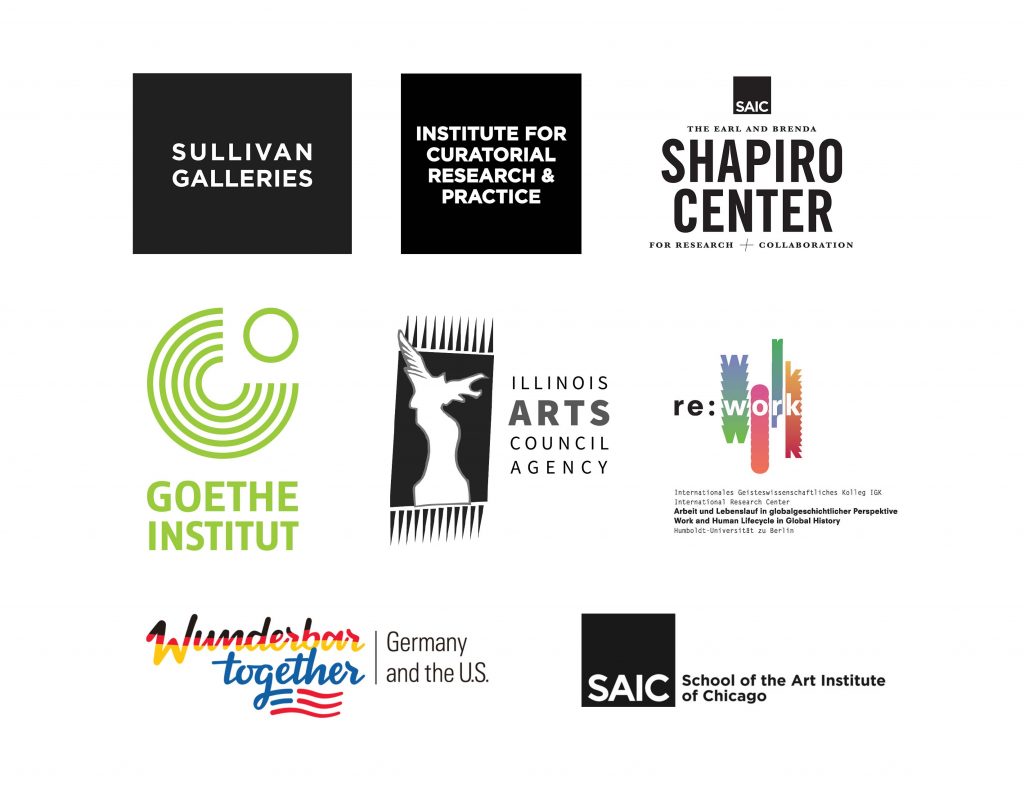 ---
Exhibition team
Curators: Daniel Eisenberg and Ellen Rothenberg
Screening Curators: Aily Nash and Andrew Norman Wilson
Curatorial and Exhibition Coordinator: Trevor Martin
Exhibition Design: Steven Plaxco
Programming Directors: Hannah Barco and Lauren Steinberg
Curatorial Assistant: Almudena Caso Burbano
Graduate Curatorial Assistant: Monica Rose Morris
Production Assistant: Julian Flavin
Designer: Sonia Yoon
About the Curatorial Assistants
Almudena Caso is an art educator, art administrator, and researcher with curatorial experience.  She is also co-founder and  co-director of Las Cientovolando, a participatory arts organization based in Madrid, Spain. Almudena is based in Chicago, USA.
In her role as an art educator Almudena Caso has designed and implemented arts curriculums and programs for after school programs, museums and non-profits. She has led community arts projects with diverse communities in collaboration with cultural and educational institutions in Spain, UK, Mexico and Nicaragua. Almudena Caso has worked as a consultant and trainer in the design and implementation of participatory and socially committed art projects for educators, artists, art administrators, and researchers. She has worked as curator and curatorial assistant in Spain, Australia and the U.S. and is the author of the research project civicmuseums.com.
Almudena Caso has gained her experience working at Sullivan Galleries School of the Art Institute of Chicago, Tate Modern, The Arts Institute of Chicago,  The Challenge Network (UK), CaixaForum Museum, Sight of Emotion Foundation. Also, by collaborating with University of Barcelona, University of Zaragoza, Staffordshire University, La Caixa Foundation, La Casa Encendida, The ONCE Foundation, National Theater Center Spain, Telefónica Foundation, Arte 10 Sentidos Biennial, Intermediae / Matadero Madrid, Museum Centro de Historias de Zaragoza.
Almudena Caso is Bachelor of Arts Honours in Photographic Arts by University of Westminster (London), Master in Arts Administration by University of Valencia (Spain), and Master in Art Education by School of the Art Institute of Chicago. She has been awarded with the La Caixa Foundation Postgraduate Fellow, Pritzker Graduate Fellowship, and the Graduate Dean Professional Development Award School of the Arts Institute of Chicago.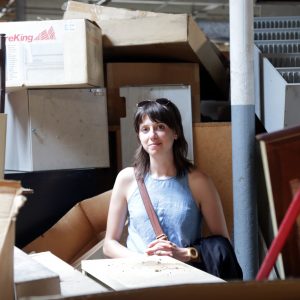 Monica Rose Morris is a Master of Arts candidate (2020) in the Department of Art Therapy and Counseling at the School of the Art Institute of Chicago. She has exhibited and organized projects in New York, Chicago, Philadelphia, and Romania, and utilizes her studio and curatorial practice as a platform for art therapy research. Morris is interested in the notion of "self-work," which she explores performatively through her construction of quiet, yet absurd, labor-intensive scenarios. Morris enjoys doing things the hard way, and views her self-made inconveniences as queer tactics of disrupting normative space. Morris is a cofounder of the Chicago-based collaborative TANDY Solutions!, established in 2018 with Christopher Huizar (MFA 2019).
Special thanks
Jeff Armstrong
Martin Berger
Amy Beste, Senior Lecturer, Art History, Theory and Criticism
Ethan Brown
Tom Buechele (BFA 1989, MFA 2017)
Andreas Eckert
Pablo R. Garcia, Associate Professor, Contemporary Practices
Sarah Gardner
Allison Green (MA 2009)
Tamer Hassan
Armin Hayrapetian 
Scott Hendrickson
Felicitas Hentschke
Sarah Hicks (BFA 2005)
Mary Jane Jacob, Professor, Sculpture and Director, Institute for Curatorial Research and Practice
Shaina Lund (MFA 2014)
Irmi Maunu-Kocian
Frédéric Moffet (MFA 1998), Associate Professor, Film, Video, New Media and Animation
John Pack
Julia Pello (MFA 2017)
Andrea Pierro
Petra Roggel
Bert Schlingmann (BFA 1996)
Patrick Spence
Cole Stallard
Gretchen Talbot
Elissa Tenny
Quang Tran
John Tully
Jeff Ward (MFA 2002)
Marjani Williams
Bree Witt
Katie Wood 
Emilie Yardley-Hodges (BFA 2015)
Kate Zeller (MA 2008)
Additional special thanks to The Chicago Department of Streets and Sanitation Staff, Sauce and Bread Kitchen, and to the dedicated staff and student teams who support the exhibitions and programming at the SAIC Sullivan Galleries.