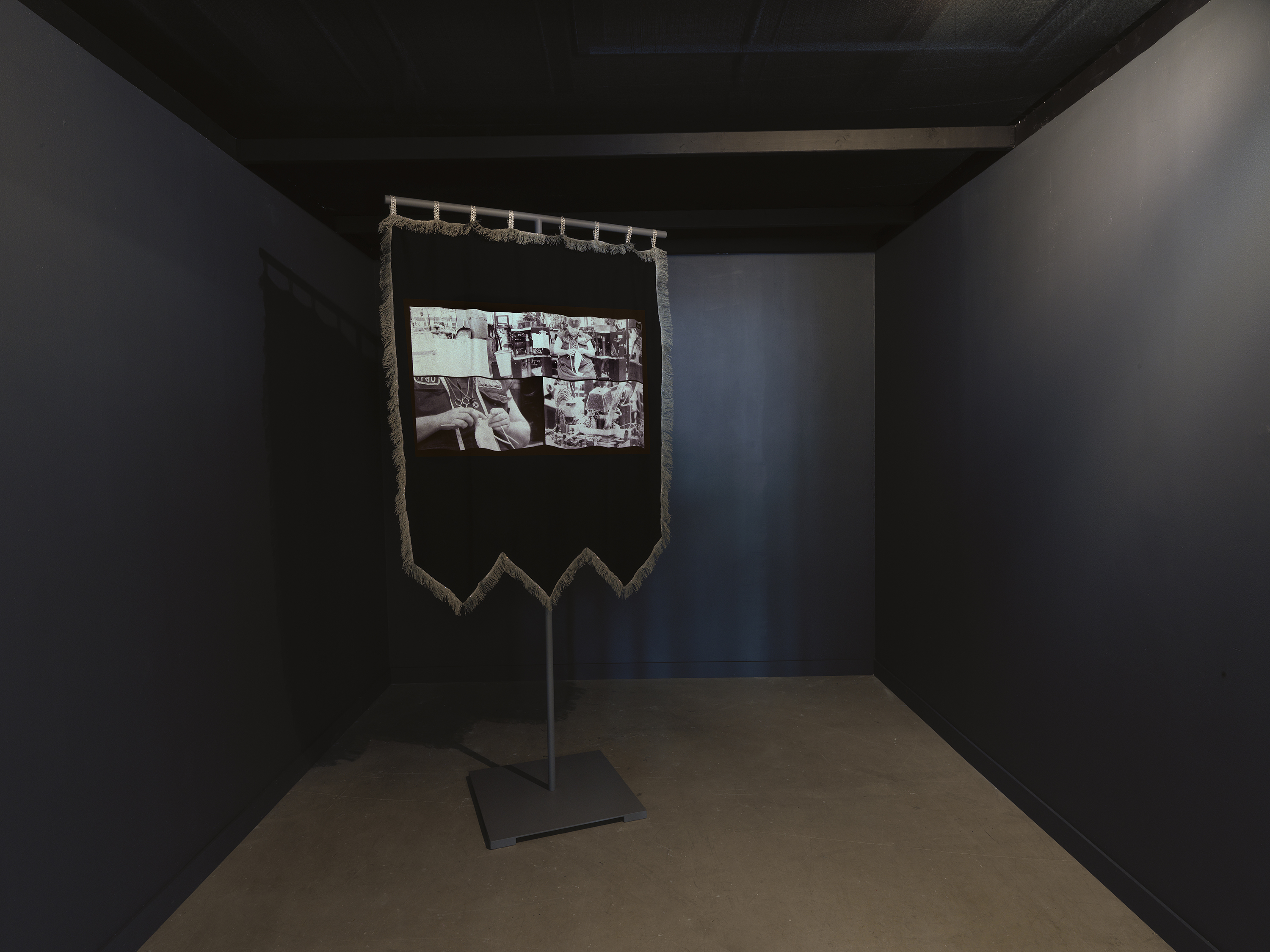 Frau Fiber vs. Circular Tube Sock Knitting Machine
Frau Fiber vs. Circular Tube Sock Knitting Machine, is a four-and-half-hour durational video, shot on location on the factory floor of Wigwam Mills, where high performance socks have been produced for over 100 years. Frau Fiber sits on a folding chair in front of a circular tube sock knitting machine, knitting a tub sock while the machine does the same action. The video documents the sounds, technicians, and activities of the factory floor. The video concludes with Frau Fiber completing her sock, and adding it to the bin of ninety-nine socks the machine completed.
This video is the first in a series inspired by the folklore of John Henry, the ultimate working-class hero. Henry was immortalized in verse and myth in the 1800s after fighting and losing a valiant battle against the steam-operated drill machine that took his life and ultimately replaced the jobs of tireless railroad workers. These videos document Frau Fiber's ongoing battle with contemporary apparel manufacturing as she attempts to spin yarn and knit a tube sock and a sweater sleeve as fast as the machine.
Frau Fiber (Apolda Germany, B. 1966) is a textile super hero crafting spirited durational performances, using pedagogical, material and playful approaches to teach communities about the human cost of mass production and consumption. Many of these events take place at Frau Fiber's store-front headquarters in downtown Long Beach, CA, the Institute 4 Labor Generosity Workers & Uniforms (ILGWU). Her legacy project is the Sewing Rebellion, a national campaign to "STOP SHOPPING AND START SEWING!" The Rebellion empowers through skill-sharing, facilitates community building, and advocates for social change. The Rebellion connects participants to the history of "thrift and reuse circles" and "quilting bees", organizing people to come together to share resources, talk politics, and promote change in the fashion and textile industry. Sewing Rebellions have been hosted in Chicago, New York City, New Orleans, Denver, Sheboygan WI, Ames Iowa, San Francisco, Los Angeles, Long Beach CA, Asheville NC, Portland ME, Portland OR, London UK, and Weimar Germany.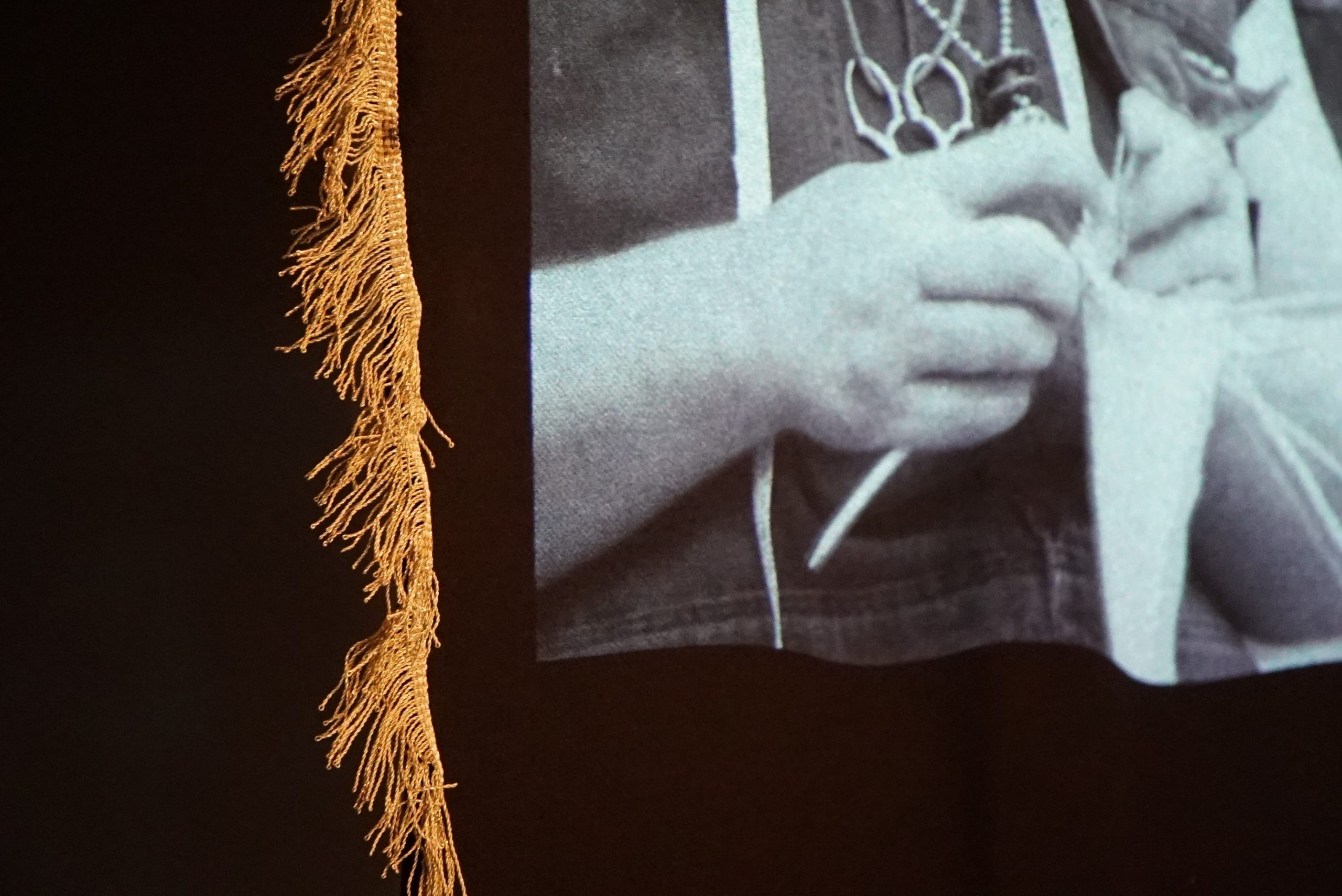 ---
Carole Frances Lung (San Francisco, CA, b. 1966) is an artist, soft power activist, and Associate Professor of Fashion Fiber and Materials, at California State University Los Angeles. As the biographer and archivist for her alter ego Frau Fiber, Carole activates a vocabulary of fashion and textile production and consumption, crafting of one of a kind garments, installations, performances, and social sculpture, paying homage to labor, textile and apparel manufacturing histories and contemporary production systems. Her performances have been exhibited at Human Resources LA CA, San Jose Quilt and Textile Museum SJ CA, The Elisabeth Foundation NY NY, LA Municipal Art Gallery LA CA, Wingdall Museum at Chaffee College, Elsewhere Collaborative Greensboro NC, Michener Art Museum Doyelstown PA,Craft in America Study Center LA CA, Jane Addams Hull House Museum Chicago IL, Craft and Folk Art Museum LA CA, Center for Craft Creativity and Design Asheville NC, Museum of Contemporary Craft Portland OR, and the Ghetto Biennale Port Au Prince Haiti. Publications include: KCET Artbound, Surface Design Journal, Art in America, and Art Papers. She has been awarded: United States Artists fellowship, Kohler Arts and Industry Residency, Craft Creativity and Design Center Grant, At the Edge Gallery 400 award and Fred A. Hillbruner Artist Book Fellowship, and Faculty Fellow for the Public Good. Carole curates and programs the Institute for Labor Generosity Workers and Uniforms, Frau Fiber's headquarters and experimental factory in downtown Long Beach, CA.