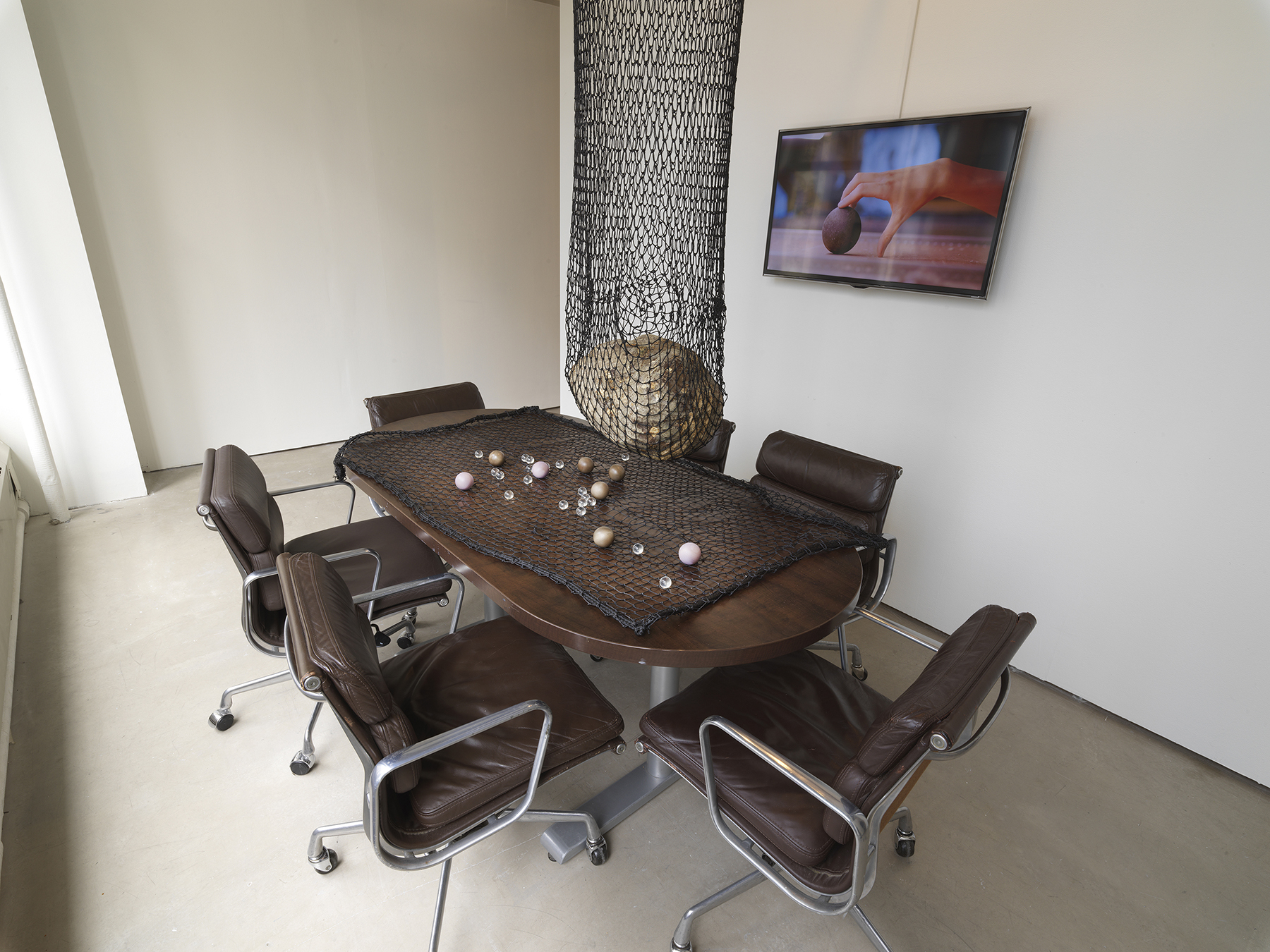 The Meeting
Think of the last meeting you were in. What did it feel like? "The Meeting" presents recent work by New York-based artist Caroline Woolard (b. 1984, Rhode Island) that takes "the meeting" itself—the gathering of people for a formal purpose—as a site for artistic and social intervention. Themes of collectivity and political economy recur in Woolard's work, and after a decade of working in arts collectives and creating socially engaged projects, she recognized that she had spent at least half of her artistic life in meetings. At this point, the meeting itself became a focus.
Most people will spend over a quarter of their lives at work. For office workers, a large portion of this time will occur in meetings. In "The Meeting," Woolard evokes the human body through its absence in the banal physicality of offices. Electrical outlets, ceiling tiles, and meeting tables intimate the power dynamics of meetings. The array of sculptural objects, as a video and a game placed on a boardroom table, reflect upon the unavoidable antagonisms of working together. 
Woolard asks: Can a job be pleasurable? Does pleasure in work require self-determination? How do workers in unions and workers without bosses (i.e. worker-owners in cooperative businesses) transform workplace conflict? Woolard has learned facilitation practices from Jessica Cook-Qurayshi, the Director of the DePaul Labor Education Center, and Esteban Kelly, the Director of the United States Federation of Worker Cooperatives (USFWC), the national grassroots membership organization for worker-owned businesses. In cooperatives, unlike other businesses, workers share profits and participate in oversight, and often in the management of the enterprise, using democratic practices.
Facilitation—the skillful guiding of the meeting process—is a key part of running a cooperative or self-organized group, because people in horizontal groups such as a cooperative share power and must attend meetings in order to make decisions together. Woolard has learned negotiation and conflict transformation techniques from facilitators at the DePaul Labor Education Center and from the USFWC while developing sculptural objects that are used to facilitate meetings.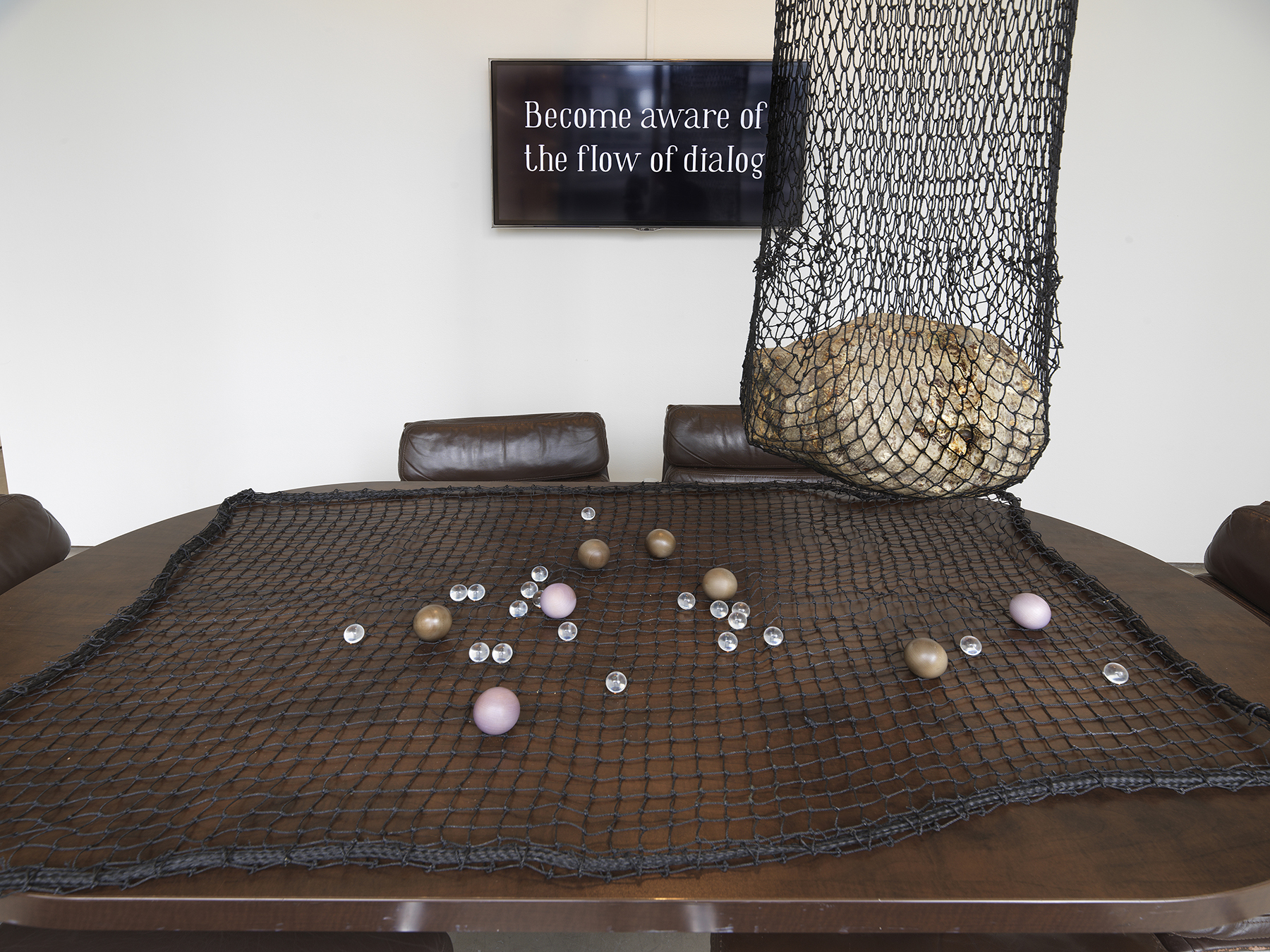 Related Program
FRIDAY, OCTOBER 11, 2019  | 2:00–5:00 PM
WORKSHOP: NEGOTIATING A CONTRACT
Caroline Woolard and Jessica Cook-Qurayshi
SAIC Sullivan Galleries
33 South State Street, 7th floor
---
Caroline Woolard employs sculptures and online networks to study the pleasures and pains of interdependence. Woolard has co-founded barter networks OurGoods.org and TradeSchool.coop (2008-2015), the Study Center for Group Work (since 2016), BFAMFAPhD.com (since 2014), and the NYC Real Estate Investment Cooperative (since 2016).
Recent writing on her work has been published in The Brooklyn Rail, Artforum, Art in America, and The New York Times. Woolard's work has been featured twice in the PBS / Art21 documentary series New York Close Up. Caroline Woolard is an Assistant Professor of Sculpture at the University of Hartford. Making and Being,her forthcoming book about interdisciplinary collaboration, co-authored with Susan Jahoda, will be published in the fall of 2019.