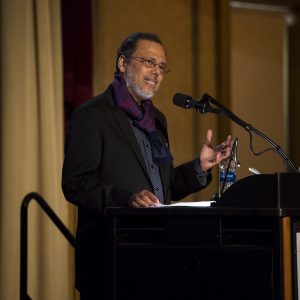 Dipesh Chakrabarty is a founding member of the editorial collective of Subaltern Studies, a consulting editor of Critical Inquiry, a founding editor of Postcolonial Studies, and has served on the editorial boards of the American Historical Review and Public Culture. He was one of the founding editors, with Sheldon Pollock from Columbia University and Sanjay Subrahmanyam from UCLA, of the series, South Asia Across the Disciplines, published by a consortium of three university presses (Chicago, Columbia, and California). He also serves on the Board of Experts for non-Western art for the Humboldt Forum in Berlin and has been a member of the Scientific Advisory Board to the Center for Global Cooperation Research since 2012. He is also an associate in the Faculty of Arts and Social Sciences at the University of Technology, Sydney 2018–2021. Chakrabarty is the recipient of the 2014 Toynbee Foundation Prize for his contributions to global history. He was awarded a DLitt honoris causa by the University of London (conferred at Goldsmiths) in 2010 and an honorary doctorate by the University of Antwerp in 2011. He was awarded the Distinguished Alumnus Award by the Indian Institute of Management, Calcutta (conferred on the occasion of the fiftieth anniversary of the Institute in 2011). He was elected an honorary fellow of the Australian Academy of the Humanities in 2006 and a fellow of the American Academy of Arts and Sciences in 2004.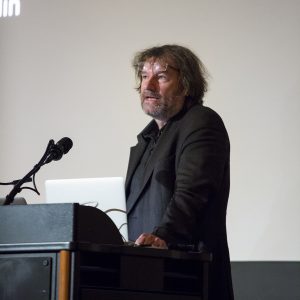 Andreas Eckert is a Professor at the Humboldt University and Director of re:work, IGK Work and Human Life Cycle in Global History at the Humboldt University, Berlin. From 2002 to 2007 he was Professor of Contemporary History with a focus on the history of Africa at the University of Hamburg. In 2007 he took over the chair of African history at the Institute of Asian and African Studies at the Humboldt University, Berlin. Eckert is also a Guest Professor at Maison des Sciences de l' Homme, Paris, Harvard University, and the University of Michigan. He is currently the Director of the Forum for Transregional Studies, and a fellow in the Institute for Advanced Study, Princeton.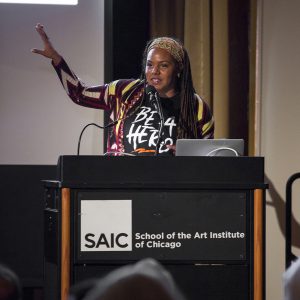 Jennifer Epps-Addison is the Network President and Co-Executive Director of the Center for Popular Democracy, a nationwide racial and social justice advocacy organization. She boasts over 15 years of organizing experience and a history of activism for economic and social justice issues. Her accomplishments include leading the campaign for paid sick days and fighting for in-state tuition for undocumented immigrants. Epps-Addison leads CPD's racial justice campaigns and works closely with the organization's growing network of local affiliates. She holds a BA in Political Science and Women's Studies and a JD from the University of Wisconsin. She currently lives in Los Angeles with her husband and their two children.
Ramiro Gomez is a Los Angeles-based artist. Gomez was born in 1986 in San Bernardino, California to undocumented Mexican immigrant parents who have since become US citizens. He briefly attended the California Institute for the Arts before leaving to take work as a live-in nanny with a West Hollywood family, an experience that did much to inform his subsequent artistic practice. Gomez's work is known for addressing issues of immigration and making visible the "invisible" labor forces that keep the pools, homes, and gardens of Los Angeles in such pristine condition. In 2013 Gomez had his first solo exhibition at the UCLA Chicano Studies Research Center, and was also awarded with a residency to install a mural in West Hollywood Park, a project titled The Caretakers, which remains on view. In 2014 Gomez had his solo gallery debut at Charlie James Gallery in Los Angeles, and went on to show widely across North America. In 2015 Gomez exhibited at the University of Michigan Institute for the Humanities, the Chicago Humanities Festival, and again at Charlie James Gallery. Gomez participated in the 2017 Whitney Biennial as part of Raf Esparza's "Figure Ground: Beyond the White Field" installation. His work was also included in three of the Getty's Pacific Standard Time: LA/LA exhibitions.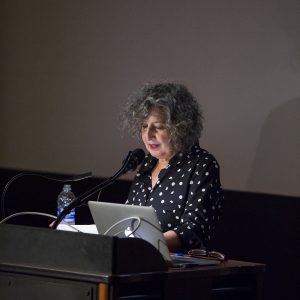 Cindi Katz is Professor of Geography in Environmental Psychology and Women's Studies at the Graduate Center of the City University of New York. Her work concerns social reproduction and the production of space, place and nature; children and the environment, and the consequences of global economic restructuring for everyday life. She has published widely on these themes as well as on social theory and the politics of knowledge in edited collections and in journals such as Society and Space, Social Text,Signs, Feminist Studies,Annals of the Association of American Geographers, Social Justice, and Antipode. She is the editor (with Janice Monk) of Full Circles: Geographies of Gender over the Life Course (Routledge 1993) and of Life's Work: Geographies of Social Reproduction (with Sallie Marston and Katharyne Mitchell) (Blackwell 2004). She recently completed Growing up Global: Economic Restructuring and Children's Everyday Lives with University of Minnesota Press in 2004. Katz held a fellowship at the Radcliffe Institute for Advanced Study at Harvard University, and she continues to work on the project she began there concerning the shifting geographies of late twentieth century US childhood.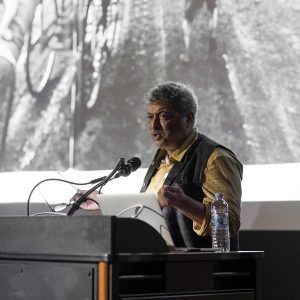 Prabhu Mohapatra is an Associate Professor in Labor History, University of Delhi. Mohapatra was a Fellow at the Nehru Memorial Museum and Library(1989-1993), and completed post-doctoral appointments at Yale University(1993-94), School of Oriental and African Studies, London (1994), and at the University of Amsterdam (1994-1997). After returning to India, he was a Visiting Fellow at the V.V Giri National Labor Institute between 1998-2002 where he established the Integrated Labor History Research Programme, and set up a fully digital and online Archive of Indian Labor, first of its kind in India. In 2002, Mohapatra was appointed as Associate Professor at the Department of History, University of Delhi where he has taught courses in Economic History of Modern India, History of Labour and Labouring Poor and Working Classes, National Movement and Strategies of Imperial Control, and a History of Servitude. Mohapatra was a Visiting Professor at Ecole Normale Superiore, Cachan (2008) and University of Goettingen (2010-11). He held the L.M Singhvi Senior Fellowship at University of Cambridge (2006) and Fellowship at International Research Centre on Work and Lifecycle in Global History Perspective, Humboldt University (2011). He has been involved in the establishment of the Association of Indian Labour Historians( AILH) and actively promoted international academic cooperation around issues of history of labor and Global History.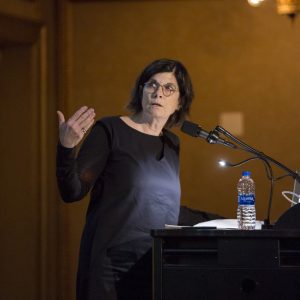 Geraldine Pratt is Professor of Geography and Canada Research Chair in Transnationalism and Precarious Labor at the University of British Columbia. She has worked in collaboration with the Philippine Women Centre (PWC) of BC, the Filipino Canadian Youth Alliance and Migrante (in Vancouver and Manila) researching migrant labour.  She is the author of Working Feminism (2004) and Families Apart: Migrant Mothers and the Conflicts of Labor and Love(2012), co-author of Gender, Work and Space (1995) and Film and Urban Space (2014), and co-editor of The Global and the Intimate: Feminism in Our Time (2012). She co-authored with Caleb Johnston in collaboration with the PWC of BC Nanay, a site-specific testimonial play that premiered at Vancouver's PuSh Festival (2009), and toured to Berlin's HAU1 Theatre (2009), Edinburgh (2012), Whitehorse (2015) and Metro Manila (2013; 2015). Working within the Conversation Collective in Whitehorse Yukon, she was involved in the development and staging of Tlingipino Bingo in 2016. A book on the travels of the play is forthcoming in 2019.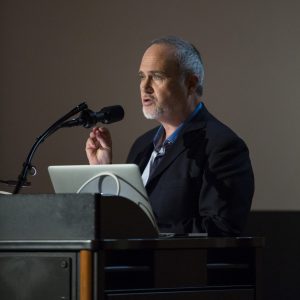 Gregory Sholette is a New York-based artist, writer and activist, and Associate Professor, Sculpture and Social Practice, Queens College, CUNY. In his wide-ranging art, activist, teaching and writing practice, Sholette develops a self-described "viable, democratic, counter-narrative that, bit-by-bit, gains descriptive power within the larger public discourse." A founding member of Political Art Documentation/Distribution (PAD/D: 1980-1988, NYC); of REPOhistory collective (1989-2000); and Gulf Labor, an artists' group advocating for migrant workers' rights constructing Western branded art museums in Abu Dhabi (2010-ongoing). While his individual art explores issues of artistic labor and political resistance, Sholette's critical writing document and reflect upon decades of activist art, much of which might otherwise remain invisible. He is editor or author of seven published volumes including most recently Art as Social Action (edited with Chloë Bass: Skyhorse Publishers, May 2018); Delirium & Resistance: Art Activism & the Crisis of Capitalism (2017) and Dark Matter: Art and Politics in an Age of Enterprise Culture (2011, both Pluto Press). Along with Bass he co-directs Social Practice Queens at Queens College CUNY where his is a professor holding a PhD from the University of Amsterdam, The Netherlands (2017), and degrees from The Cooper Union (BFA, 1979), University of California, San Diego (MFA, 1995), and The Whitney Independent Studies Program in Critical Theory (1996).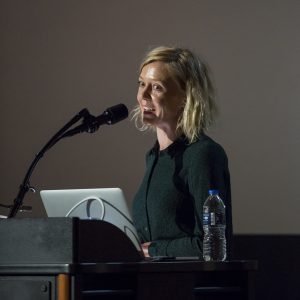 Friederike Sigler is a Researcher and Lecturer at the Academy of Fine Arts in Dresden (Hochschule für Bildende Künste). She studied art history and philosophy at the Philipps-Universität Marburg and the Freie Universität Berlin. From 2012 to 2014 she was a fellow at the Post-graduate school "Materiality and Production" at the Heinrich-Heine-University Düsseldorf. Her research focuses on work in contemporary art. She is completing her PhD on this topic and has given numerous lectures, including "An Injury to One is an Injury to All. Precarious Labour in Contemporary Arts" at the Vrije Universiteit Amsterdam 2017, "Art Strike / Strike Art" at the University of California, Berkeley also 2017 and "La lutte continue!" at Haus der Kunst Munich in 2018. She has also published articles and is editor of the volume "WORK" in the series Documents of Contemporary Arts, published by Whitechapel Gallery London and MIT Press in 2017.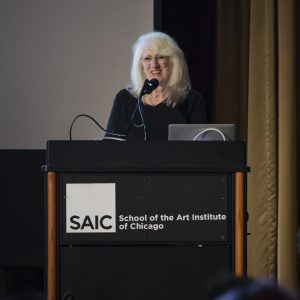 Mierle Laderman Ukeles became the official, unsalaried Artist-in-Residence at the New York City Department of Sanitation in 1977—a position she still holds—and since has created art that deals with the endless maintenance and service work that "keeps the city alive:" urban waste flows, recycling, ecology, urban sustainability, and our power to transform degraded land and water into healthy inhabitable public places. She asks whether we can design modes of survival—for a thriving planet, not an entropic one—that don't crush our personal and civic freedom and silence the individual's voice. Ukeles has exhibited internationally, including at the Wadsworth Atheneum, Hartford; Whitney Museum; MoMA PS1; LAMoCA; Tel Aviv Museum; Sharjah Biennial 8; Contemporary Jewish Museum, San Francisco; Smack Mellon, Brooklyn; Wellcome Trust, London; Creative Time, New York; Brooklyn Museum; Haus der Kunst, Munich; the 13th Istanbul Biennial; Manifesta 10, St. Petersburg; and Manifesta 11, Zurich. A major retrospective of Ukeles's work was presented at the Queens Museum, New York in 2016-2017. Her early work was the subject of a touring exhibition organized by Graz Kunstverein, Graz, 2013–2015. Ukeles was the keynote speaker at the International Open Engagement Conference in 2014, a Guggenheim Fellow, and recipient of many grants and fellowships from the NEA, NYSCA, Joan Mitchell, Andy Warhol, and Anonymous Was a Woman Foundations, among others. She is represented by Ronald Feldman Fine Arts, New York.
Faculty Research Fellows: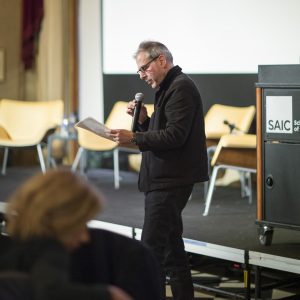 Daniel Eisenberg has been making films and videos at the border between documentary and experimental media for over thirty years. The Unstable Object, his ongoing series of films and installations of factories over the world, has been seen in installation at the Museum of Arts and Design in New York, and the 3rd Istanbul Design Biennial, 2016. His films have also been screened throughout Europe, Asia, and the Americas with solo exhibitions at MoMA, New York; Centre Georges Pompidou, Paris; Pacific Film Archive, Berkeley; Hirshhorn Museum, Washington DC; American Museum of the Moving Image, New York; Musée du Cinema, Brussels; De Unie, Rotterdam; and Kino Arsenal, Berlin among others. His films have been shown in the Berlin Film Festival; Sydney Film Festival; London Film Festival; Jerusalem Film Festival; FIDMarseille; and Whitney Biennial, New York.
Eisenberg has received the Berlin Prize of the American Academy in Berlin, Guggenheim Fellowship, DAAD. Berliner Künstlerprogramm Fellowship, Illinois Arts Council Media Arts Fellowship, Creative Capital grant, Graham Foundation grant, and NEA Fellowship. Awards include the Prix Georges De Beauregard International at FIDMarseilles; arc+film Festival, Graz; Ann Arbor Film Festival; Black Maria Film and Video Festival; and New England Film Festival. In 2017 he was a fellow at re:work, the International Research Institute for Work and Life Course in Global History, Humboldt University, Berlin. Eisenberg lives and works in Chicago and is a Professor at SAIC where he is also Faculty Research Fellow in the Institute of Curatorial Research.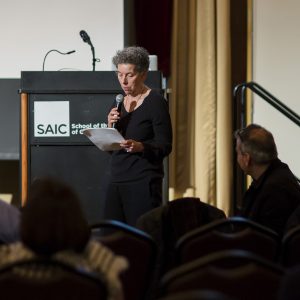 Ellen Rothenberg's work has been concerned with the politics of everyday life and the formation of communities through collaborative practices. Influenced by the social and political actions of the sixties – the civil rights, anti-war, and feminist movements -she began locating her work outside conventional institutional venues, shifting her performances and sculpture to the street, city parks, subway platforms and other public spaces, broadening the audience for her work. At the same moment, Rothenberg began to immerse herself in research, particularly feminist histories of labor and social action. Partnering with historians, forensic scientists, researchers and archivists, she developed a practice that includes and recognizes intellectual workers and material fabricators in a non-hierarchical approach.
Rothenberg's work has been presented in North America and Europe at The Museum of Contemporary Art, Chicago; The Museum of Fine Arts, Boston; The Institute of Contemporary Art, Boston; The Museum of London, Ontario; The Contemporary Jewish Museum, San Francisco; The Neues Museum Weserburg, Bremen; Royal Festival Hall, London; The Brukenthal National Museum, Sibiu, Romania; among others. Awards include NEA Fellowships, The Bunting Institute Fellowship, Radcliffe College Harvard University, Illinois Arts Council Fellowships, The Massachusetts Artist Foundation Fellowships, and grants from CEC Artslink, The Charles Engelhard Foundation, The LEF Foundation, and NEA Artists Projects. She has worked in collaboration with the Chicago Torture Justice Memorial Project, Future Force Geo Speculators, and Chelen Amenca, Romania. Rothenberg teaches at The School of the Art Institute of Chicago and is an inaugural Faculty Research Fellow at the Institute for Curatorial Research and Practice at SAIC
All Re:Working Labor Symposium photos are courtesy of Grace Duval 2018