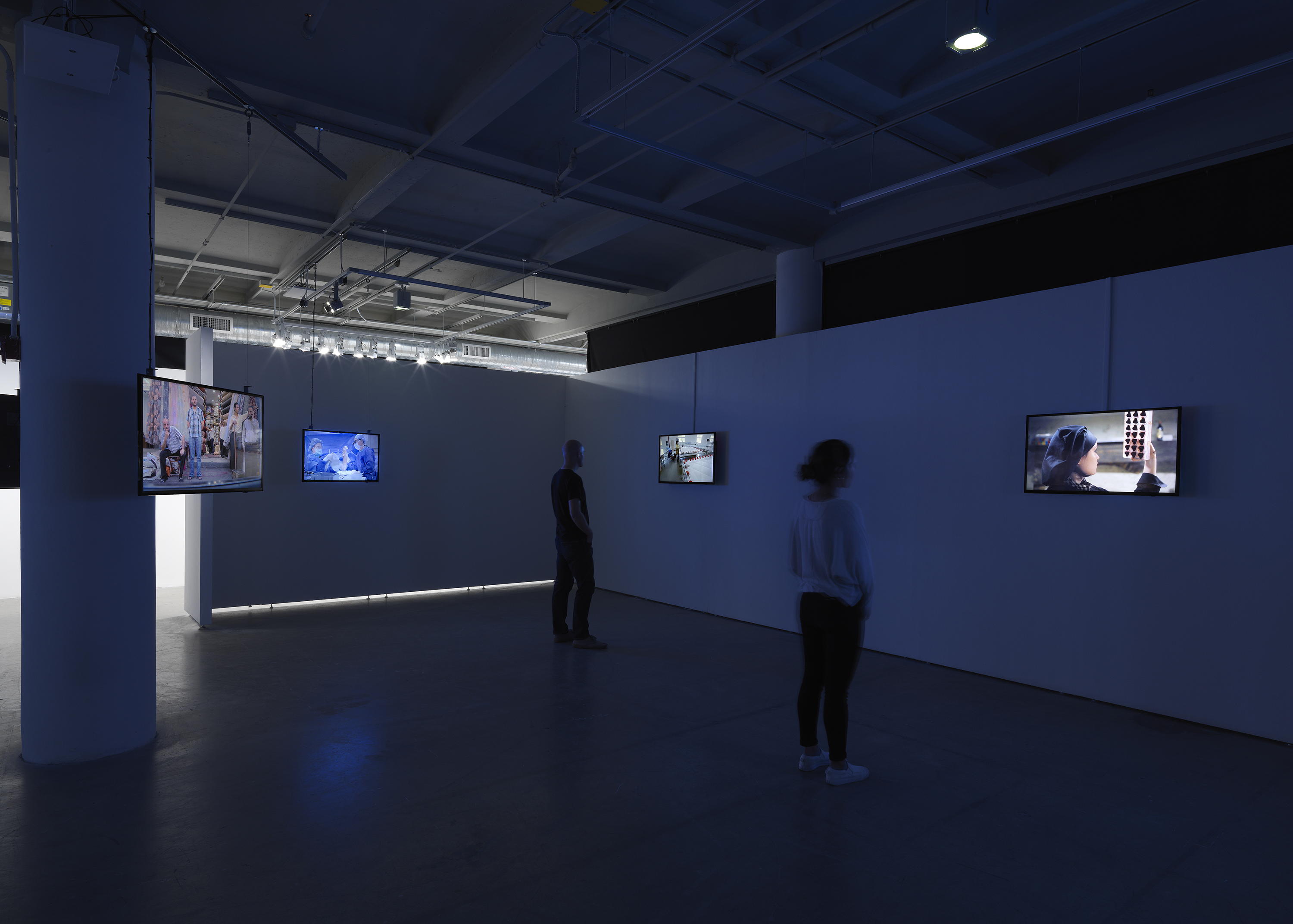 Labour in a Single Shot
Initiated in 2011 by Antje Ehmann and Harun Farocki, Labour In A Single Shot is a collaborative project that accumulates an archive of short, rigorous films, each a single shot, one or two minutes in length, produced by workshop participants in cities worldwide. Since 2017, these workshops have been continued by Antje Ehmann and Eva Stotz.
Selected videos from these workshops have been exhibited internationally in galleries and museums since 2013. This specific installation in Sullivan Galleries features 60 films from 10 cities: Bangalore, Boston, Buenos Aires, Cairo, Hangzhou, Hanoi, Johannesburg, Lodz, Mexico City, and Vilnius.
The project aims to respond to and grapple with the specific characteristics of each workshop city and region. In each city we see all kinds of labour going on every day: cobblers, cooks, waiters, window cleaners, nurses, tattoo-artists or garbage workers. But most of the work activities happen behind closed doors. Often labour is not only invisible but also unimaginable. Therefore it is vital to undertake research, to open one's eyes and to set oneself into motion. Where can we see which kinds of labour? What is hidden? What happens in the centre of a city, what occurs at the periphery? What is characteristic and what is unusual with regard to each city? What kinds of labour processes set interesting cinematographic challenges?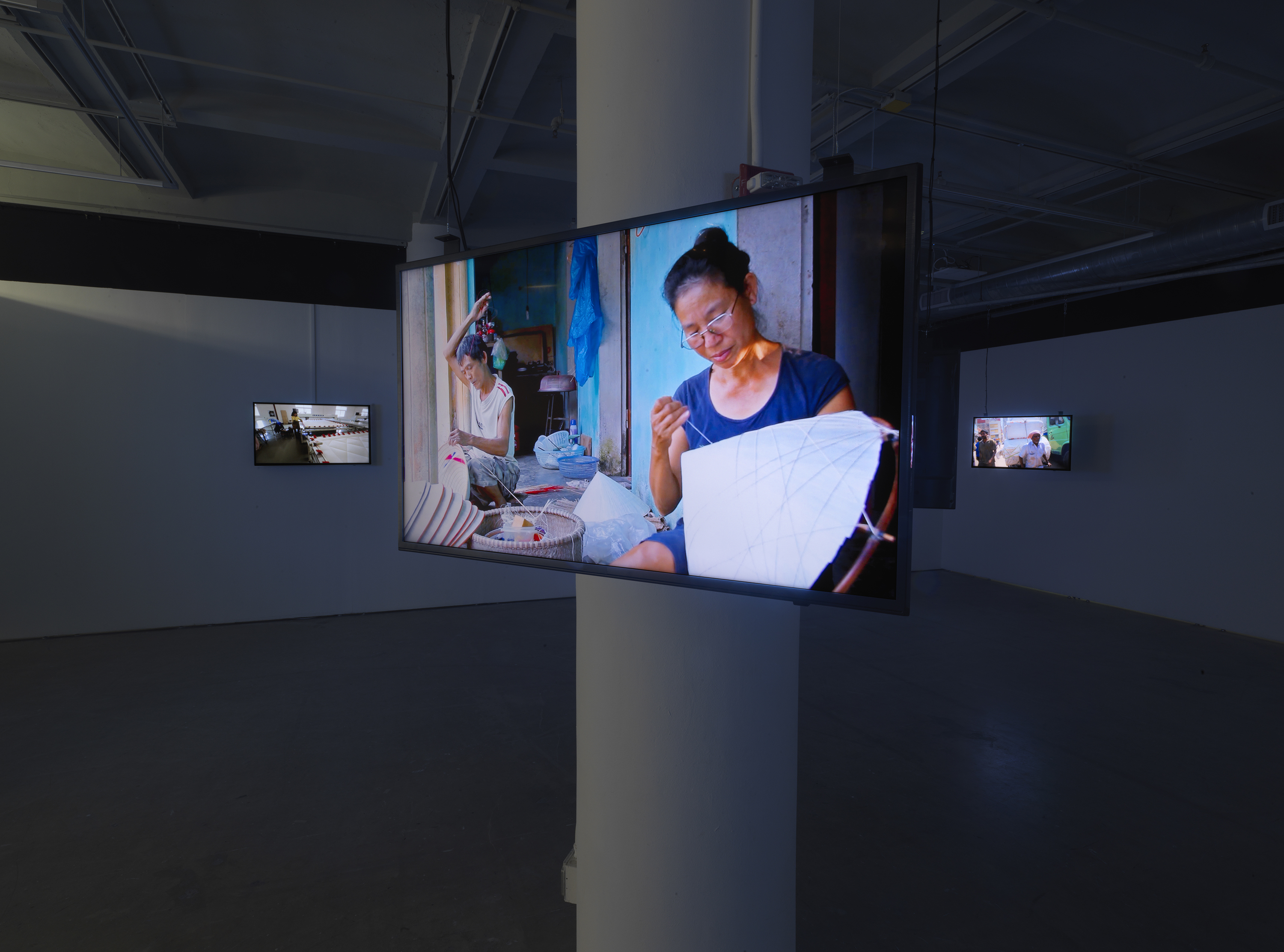 SEPTEMBER 22–OCTOBER 8, 2019  | Times vary
Labour in a Single Shot Workshop for Emerging Video and Filmmakers
Antje Ehmann and Eva Stotz
Various locations, SAIC
TUESDAY, OCTOBER 8, 2019  | 6:00 PM
Screening: Labour in a Single Shot
Maclean Center
112 S. Michigan Ave, room 1307
---
Antje Ehmann is a curator, author and artist.
Curatorial projects (selection): Harun Farocki: Who is in Charge? (with Heloisa Espada), Instituto Moreira Salles, Rio de Janeiro, IMS Sao Paulo, Brazil 2018 | Harun Farocki. What ought to be done. Life and work, (with Eunhee Kim), National Museum of Modern and Contemporary Art, Seoul, South-Korea, 2018 | Harun Farocki Retrospective (with Marius Babias), Berlin 2017 | By other Means (with Carles Guerra), NBK, Berlin 2017 | Harun Farocki. Empathy (with Carles Guerra), Fundació Antoni Tapies, Barcelona 2016 | Harun Farocki. What is at Stake (with Carles Guerra), Institut Valencia d'Art Modern | Harun Farocki. 4 films from 1967-1997, Angels Gallery Barcelona 2014
Artistic projects (selection): How shall I name what I am missing? (with Jan Ralske), Forum Expanded 2015 | Labour in a Single Shot. A Project together with Harun Farocki, 2011 – 2014, with Eva Stotz, since 2017 | War Tropes, (with Harun Farocki), Gorki Theater, Berlin 2011 | Feasting or Flying (with Harun Farocki), Moderna Galerija, Ljubljana 2009

Publications (selection): Harun Farocki, What Ought to be Done? Work and Life (with Eunhee Kim), Seoul 2018 | Harun Farocki, 10, 20, 30, 40. Fragment einer Autobiographie (with Marius Babias), Berlin 2017 | Harun Farocki, Another Kind of Empathy (with Carles Guerra), Cologne 2016 | Serious Games. War – Media – Art (with Ralf Beil), Ostfildern 2011
Eva Stotz is a Berlin-based documentary director who focuses on the effect of globalisation on social phenomena. In her documentary films, such as One Million Steps, Sollbruchstelle, and Global Home, she has documented the worldwide devaluation of work, the power of alternative web-based networks, and the spirit of the occupy movement expressed in the Gezi protests in Istanbul. Her films were screened and awarded at film festivals worldwide, including Jury Award FIFA Montréal, Best Experimental Film Bamberg, Audience Award FIFA Aubagne, German Television Award 2009, DOKLeipzig and many others.
Eva constantly expands the genre and uses the power of documentary storytelling in audio-visual performances like Moments of Movement or in the interactive project Field Trip. 
Eva is co-author of the book Documentary Film in its making and founded her production company ronjafilm in 2012 in Berlin. 
She is a regular guest in discussion rounds and panels and runs documentary classes in cooperation with various institutes, including Harvard University, German Film- and Television Academy Berlin, Raindance Institute London, Bahçeşehir University Istanbul. In 2015 she received the Tarabya scholarship by the German Ministry of Foreign Affairs, curated by Goethe Institute Istanbul.