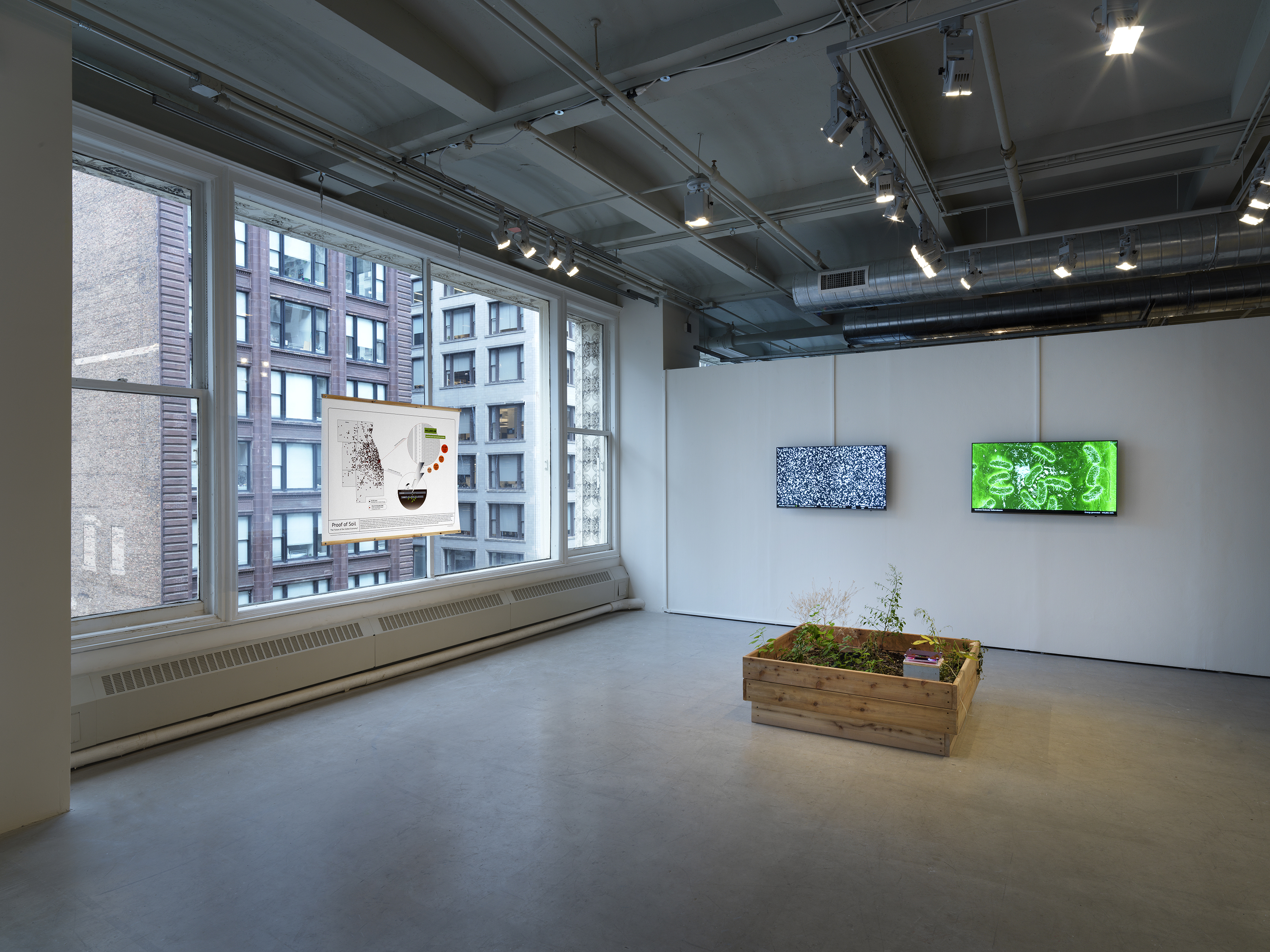 Proof of Soil
Proof of Soil speculates on new forms of non-human labor that move between virtual and terrestrial networks to power a global financial economy that is in the not so distant future. Cryptocurrency, one of the fastest growing financial instruments in the world, becomes a lens to envision this anticipated moment. In a perpetual cycle of production and consumption, the excess from millions of machines laboring over algorithms is transformed through the labor of microscopic organisms. These organisms metabolize waste back into the energy critical to sustaining this massive system.
Since the birth of Bitcoin in 2009, cryptocurrency has been accelerating at a rapid pace as both a form of exchange and a financial investment. Even with its volatile fluctuations, its user base doubled in 2018 from 18 to 35 million users and its market worth rising to $270 billion. In addition to cryptocurrency's volatility, one of the utmost concerns is its energy usage. One recent report stated that Bitcoin has an energy footprint the size of Rhode Island. 
So how do we power this inevitable, energy hogging, growing economy when we're already in an environmental crisis? 
Living beneath the soil is a terrestrial world of microorganisms that scientists are discovering can generate electricity. This "microbial machine" comprised of bacteria feed off carbon-based particles, oil-based pollutants, metal and radioactive materials that have collected in the soil from pollution. This process of microbial bioremediation actually produces an electrical current as the microbes transfer electrons.
Proof of Soil imagines a new system in which energy is harvested from the accumulated waste of our toxic landscapes to keep the network running. In the artwork, a physical prototype representing a brownfield networked to the blockchain reveals both the promise of alternative energy and the challenges it confronts while questioning the future of human labor. 
Data visualization created by Amay Kataria. Horticulture by Dann Disciglio.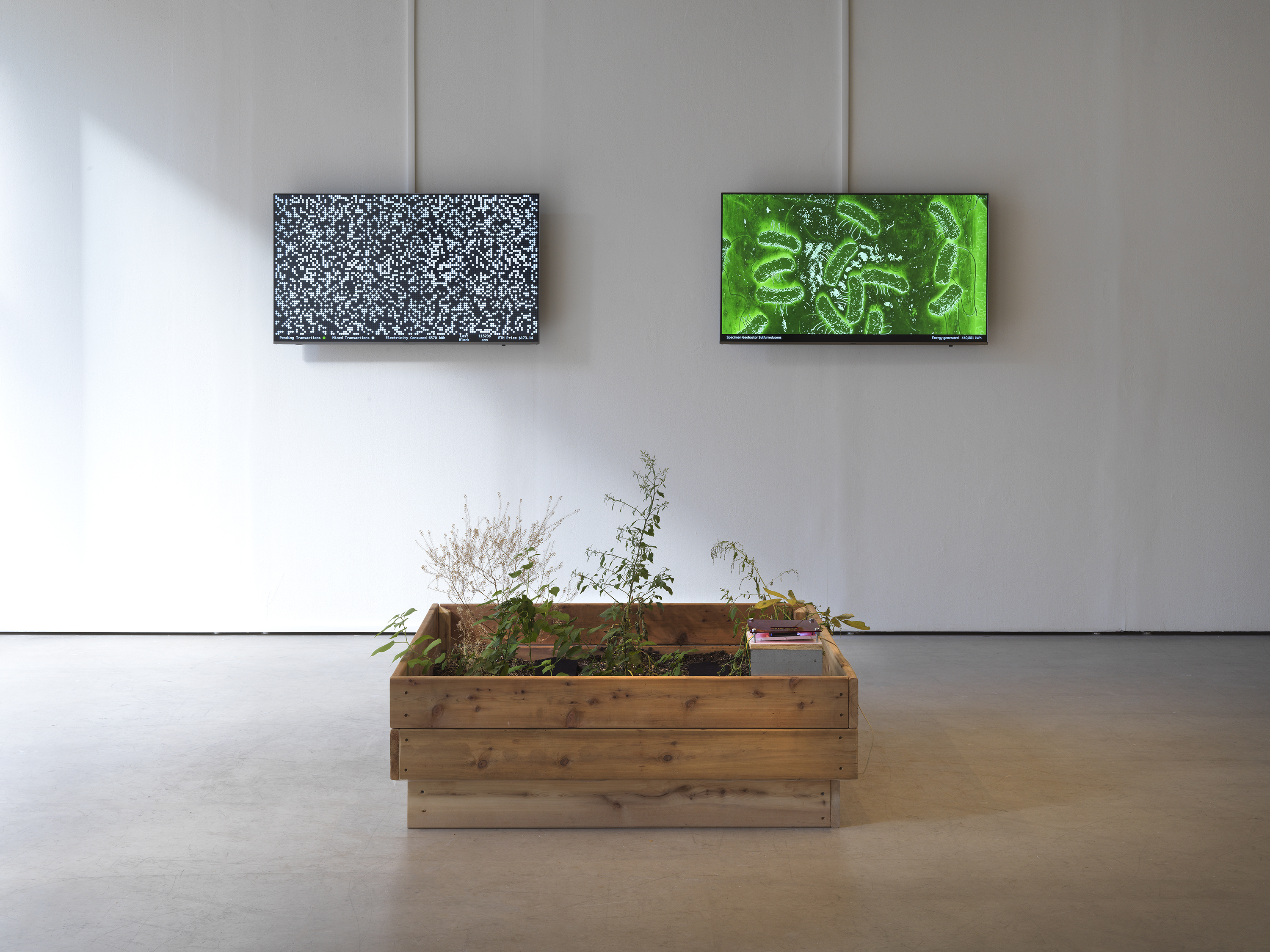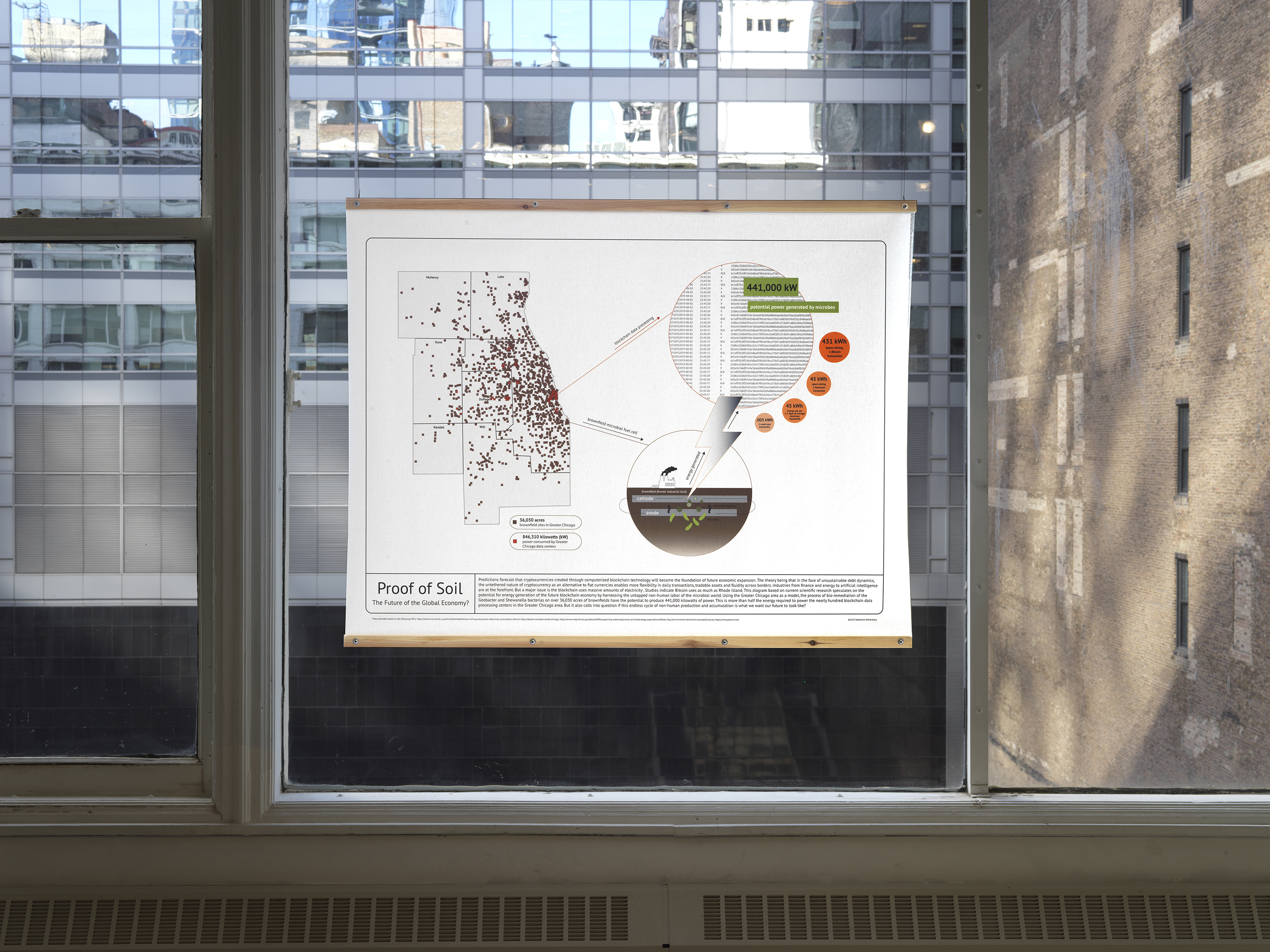 ---
Stephanie Rothenberg is an artist using performance, installation, biological and networked media to create provocative public interactions. Her work moves between real and virtual spaces investigating the power dynamics of techno utopias, global economics and outsourced labor. She has exhibited throughout the US and internationally in venues including Eyebeam in NYC, Massachusetts Museum of Contemporary Art (MASS MoCA) in North Adams, MA, the Sundance Film Festival in Park City, Utah, House of Electronic Arts in Basel, Switzerland, LABoral in Gijon, Spain, Transmediale in Berlin and ZKM Center for Art & Media in Karlsruhe, Germany. She is a recipient of numerous awards, most recently from the Harpo Foundation and Creative Capital. Residencies include the Lower Manhattan Cultural Council Workspace, Eyebeam Art and Technology and the Santa Fe Art Institute. Her work is in the collection of the Whitney Museum of American Art and has been widely reviewed including Artforum, Artnet, The Brooklyn Rail and Hyperallergic. She received her MFA from the School of the Art Institute of Chicago and is Associate Professor and Director of Graduate Studies in the Department of Art at SUNY Buffalo where she teaches courses in design and emerging technologies. www.stephanierothenberg.com