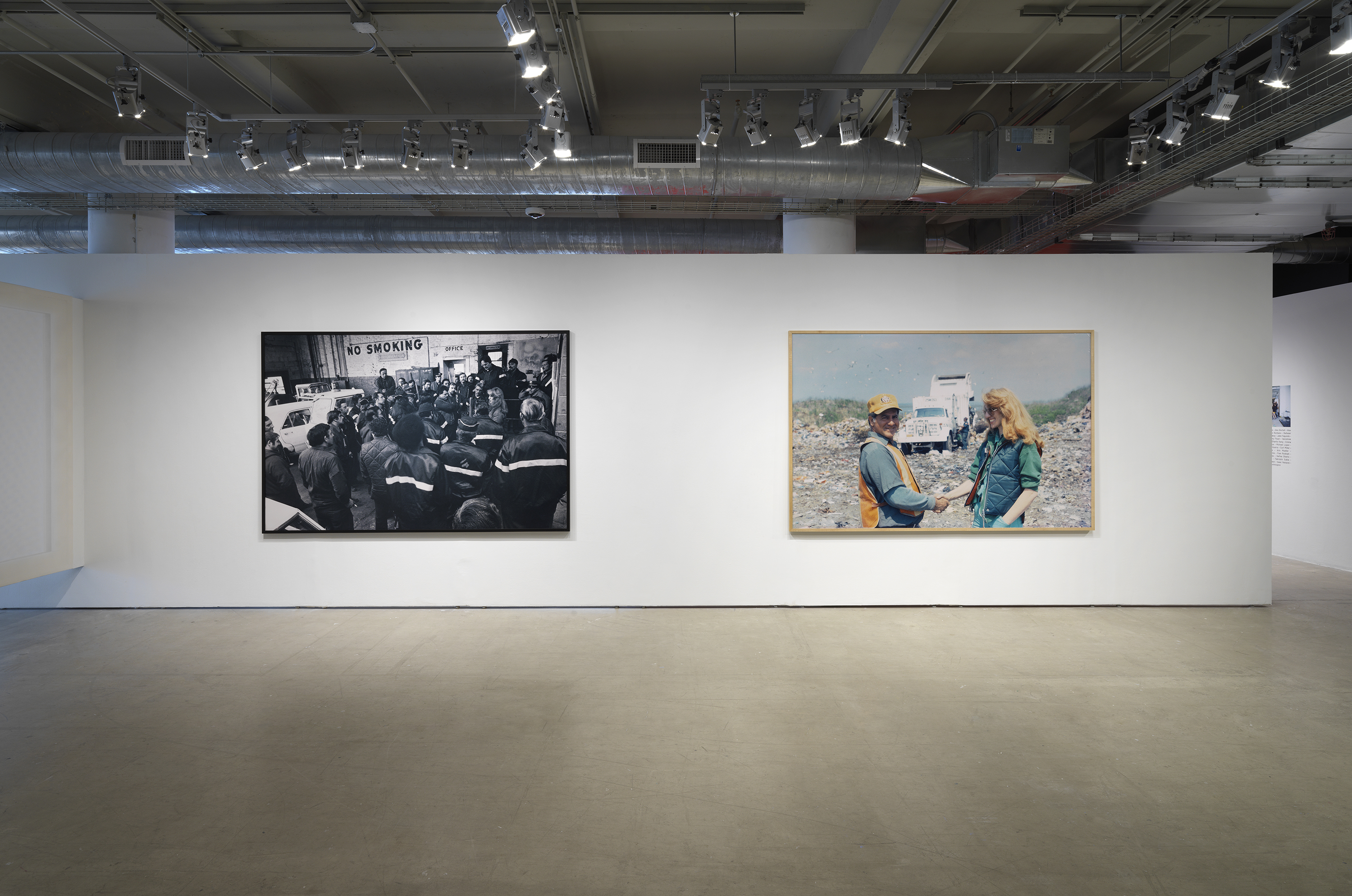 MAINTENANCE IS FOREVER
Maintenance Is Forever is a three-part presentation of the disruptive and innovative practice of Mierle Laderman Ukeles. Each segment, TOUCH SANITATION PERFORMANCE, WORK: CHICAGO DSS, and SERVING IV presents different encounters from 1977 to 2019. Over the course of this period Ukeles' unique approach and methodology has developed in order to engage and honor the largely unrecognized work of maintenance and service.
"Our goal is to focus on work, to see work, to hear work. I don't think people see maintenance work. Yet, if we care to stay here, this work of keeping the City will go on forever. It keeps the City alive."
PART 1: 1977–1984
 

|

 

TOUCH SANITATION PERFORMANCE

1977–1979: Research, talking to sanmen
July 1979–June 1980: TOUCH SANITATION PERFORMANCE

Ten sweeps around New York City to all 59 community districts, every sanitation district and facility. Ukeles faces each of the 8,500 sanitation workers in the Department of Sanitation, shake hands, and says to each person: "Thank you for keeping New York City alive." Includes: brochure given to each sanitation worker including map of itinerary, letter of invitation to participate in this citywide performance, large-scale photographs, artist text, and two video artworks: WASTE FLOW VIDEO and SANMAN'S PLACE VIDEO, 1979–1984.
PART 2: 2019
 

|

CHICAGO DSS: DIVISION 7, DIVISION 4, DIVISION 2, DIVISION 6

A new video artwork by Mierle Laderman Ukeles and Julian Flavin, assisted by Tamer Hassan and Armin Hayrapetian. Being with sanitation and street cleaning workers from the Chicago Department of Streets and Sanitation. Shot and edited August 2019.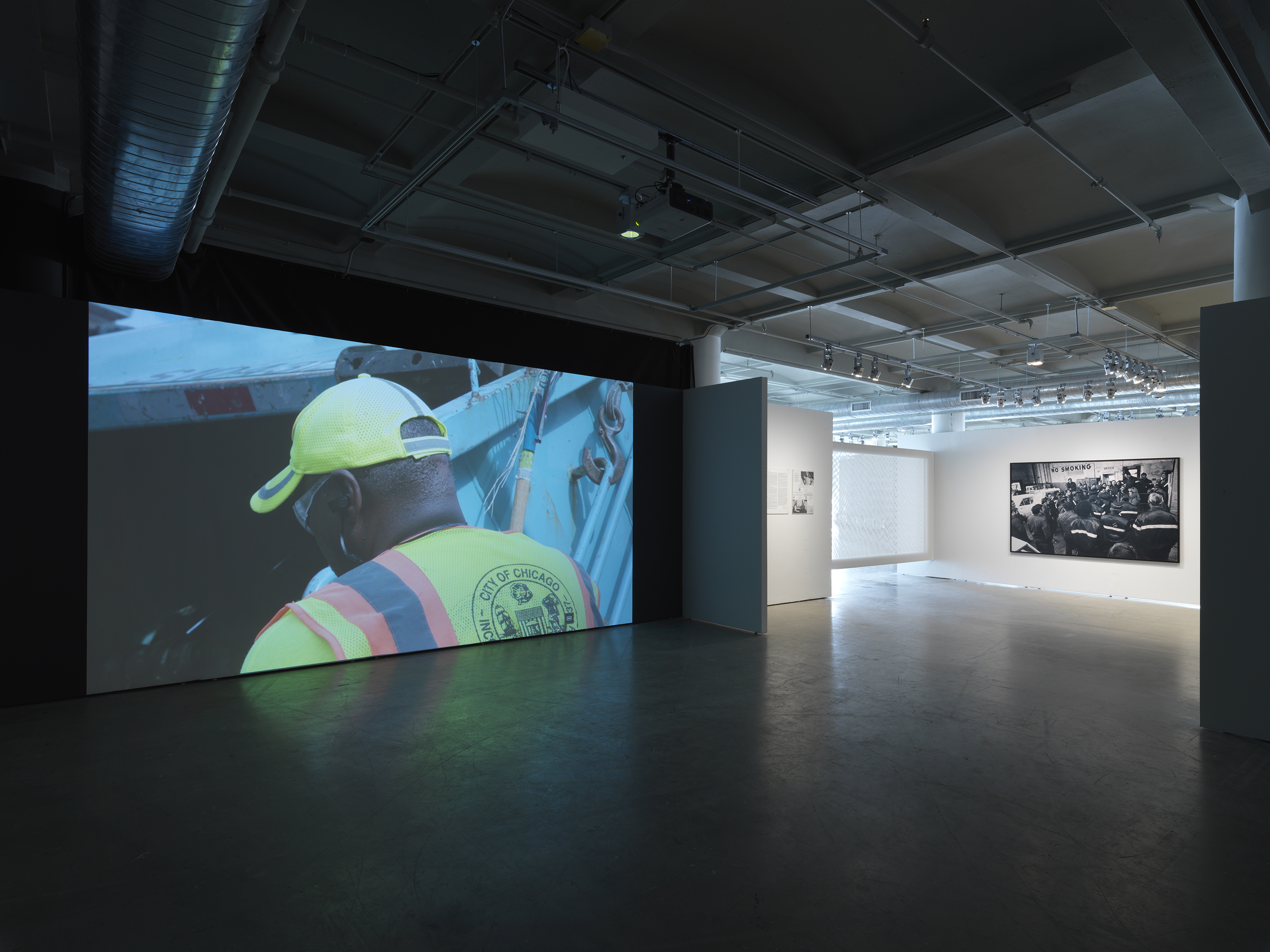 TUESDAY, SEPTEMBER 24, 2019  | 6:00 PM
Visiting Artists Program Lecture: Mierle Laderman Ukeles
The Art Institute of Chicago, Rubloff Auditorium
230 South Columbus Drive
FREE, non-ticketed, open to the public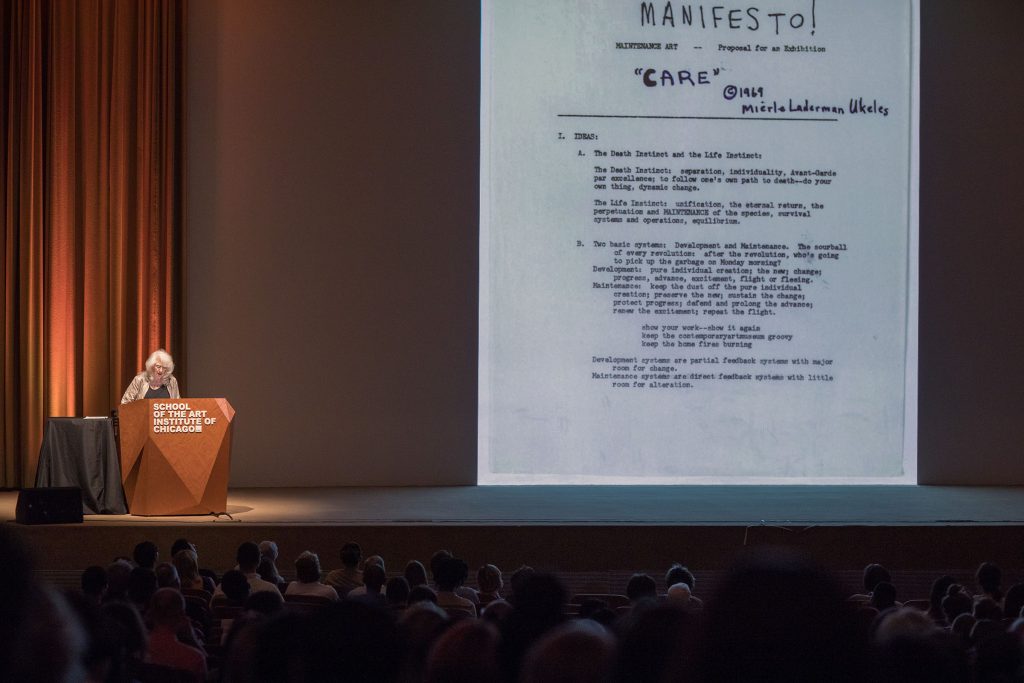 WEDNESDAY, SEPTEMBER 25, 2019  | 1:00–3:00 PM
Serving IV: "As Long As We Are Here…"
Mierle Laderman Ukeles performance action to honor maintenance workers
SAIC Sullivan Galleries
33 South State Street, 7th floor
Artist Mierle Laderman Ukeles invites representatives of maintenance—custodians, security, and engineering staff—of the School of the Art Institute of Chicago (SAIC) to be very special honored guests at a beautiful lunch in the Sullivan Gallery on September 25, 2019 between 1:00–3:00 pm.
These workers, whom Ukeles calls MAINTAINERS, represent the large number of people whose ongoing work makes it possible for the art students and faculty at SAIC to pursue learning, and proceed with realizing their visions and their creative work in a clean, safe and healthy environment. Every day. These MAINTAINERS are the people who bring the thirst of making into a realm of reality.
The lunch will be served by a selected group of SAIC students and others, called SERVERS, who wish to offer a gesture of loving thanks for the endless work by the MAINTAINERS.
The heart of this action is to create an atmosphere of pleasure and ease and enjoyment for the MAINTAINERS.
---
Mierle Laderman Ukeles has exhibited internationally, including at the Whitney Museum of American Art, New York; MoMA PS1, New York; Queens Museum, New York; Museum of Contemporary Art, Los Angeles; Tel Aviv Museum of Art, Israel; Sharjah Biennial, United Arab Emirates; Contemporary Jewish Museum, San Francisco; Wellcome Collection, London; Haus der Kunst, Munich; Art Institute of Chicago; Istanbul Biennial; Marabouparken Konsthall, Stockholm; Grazer Kunstverein, Graz, Austria; Manifesta 10, St. Petersburg, Russia; Wadsworth Atheneum, Hartford, Connecticut. Her works are in the permanent collections of the Whitney Museum of American Art; Solomon R. Guggenheim Museum, New York; Art Institute of Chicago (promised gift); Migros Museum of Contemporary Art, Zurich; Wadsworth Atheneum Museum of Art; Smith College Museum of Art, Northampton, Massachusetts; and Jewish Museum, New York. She is represented by Ronald Feldman Gallery in New York.