SEPTEMBER 22–OCTOBER 8, 2019
Workshop: Labour in a Single Shot
Antje Ehmann and Eva Stotz
Various locations, SAIC
"The task at hand is to present the topic 'work' by means of a single video sequence; in other words, participants will produce videos consisting of only one sequence. The topic is work: paid, unpaid, material or immaterial, traditional or entirely new work. This assignment formally introduces the foundations of filming, as it's essential to discover: Where can one find a beginning and an end even if a repetitive process is being shown? Should the camera be moved or stand still? What is the best way to capture the choreography of a work process in a single sequence? Early films told us: Every detail of the mobile world is worth being documented and considered. And they had a fixed point of view, whereas today's documentary film only too often presents sequence upon sequence because it is undecided." —H. Farocki/Antje Ehmann.
---
TUESDAY, SEPTEMBER 24, 2019  | 6:00 PM
Visiting Artists Program Lecture: Mierle Laderman Ukeles
The Art Institute of Chicago, Rubloff Auditorium
230 South Columbus Drive
FREE, non-ticketed, open to the public
---
WEDNESDAY, SEPTEMBER 25, 2019  | 1:00–3:00 PM
Performance: Serving IV: "As Long As We Are Here…"
SAIC Sullivan Galleries
33 South State Street, 7th floor
Artist Mierle Laderman Ukeles invites representatives of maintenance—custodians, security, and engineering staff—of the School of the Art Institute of Chicago (SAIC) to be very special honored guests at a beautiful lunch in the Sullivan Gallery on September 25, 2019 between 1:00–3:00 pm.
These workers, whom Ukeles calls MAINTAINERS, represent the large number of people whose ongoing work makes it possible for the art students and faculty at SAIC to pursue learning, and proceed with realizing their visions and their creative work in a clean, safe and healthy environment. Every day. These MAINTAINERS are the people who bring the thirst of making into a realm of reality. The lunch will be served by a selected group of SAIC students and others, called SERVERS, who wish to offer a gesture of loving thanks for the endless work by the MAINTAINERS. The heart of this action is to create an atmosphere of pleasure and ease and enjoyment for the MAINTAINERS.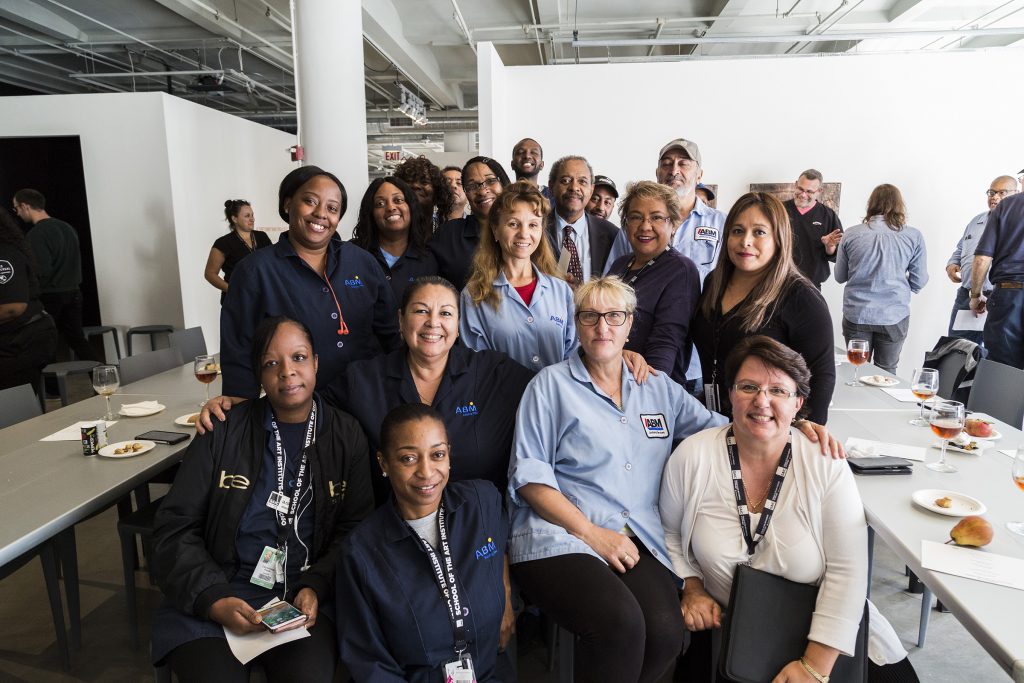 ---
WEDNESDAY, OCTOBER 2, 2019  | 4:30–5:30 PM
Curators' Tour
Ellen Rothenberg and Daniel Eisenberg
SAIC Sullivan Galleries
33 South State Street, 7th floor
---
TUESDAY, OCTOBER 8, 2019  | 6:00 PM
Screening: Labour in a Single Shot
MacLean Center
112 S. Michigan Ave, room 1307
---
FRIDAY, OCTOBER 11, 2019  | 2:00–5:00 PM
WORKSHOP: NEGOTIATING A CONTRACT
Caroline Woolard and Jessica Cook-Qurayshi
SAIC Sullivan Galleries
33 South State Street, 7th floor
Join Jessica Cook-Qurayshi, director of the DePaul Labor Education Center, and artist Caroline Woolard to learn how to negotiate a union contract using sculptural tools and bargaining skills. You will be placed on teams who find themselves in the middle of negotiations for a new union contract. You will learn how to make proposals, deliberate, and work with sculpture tools while you are supported by union members and artists. Space is limited to 20 participants. Please RSVP with subject heading "RSVP FOR OCTOBER 11" to lstein3@artic.edu and confirm that you can be there for the entire three hours.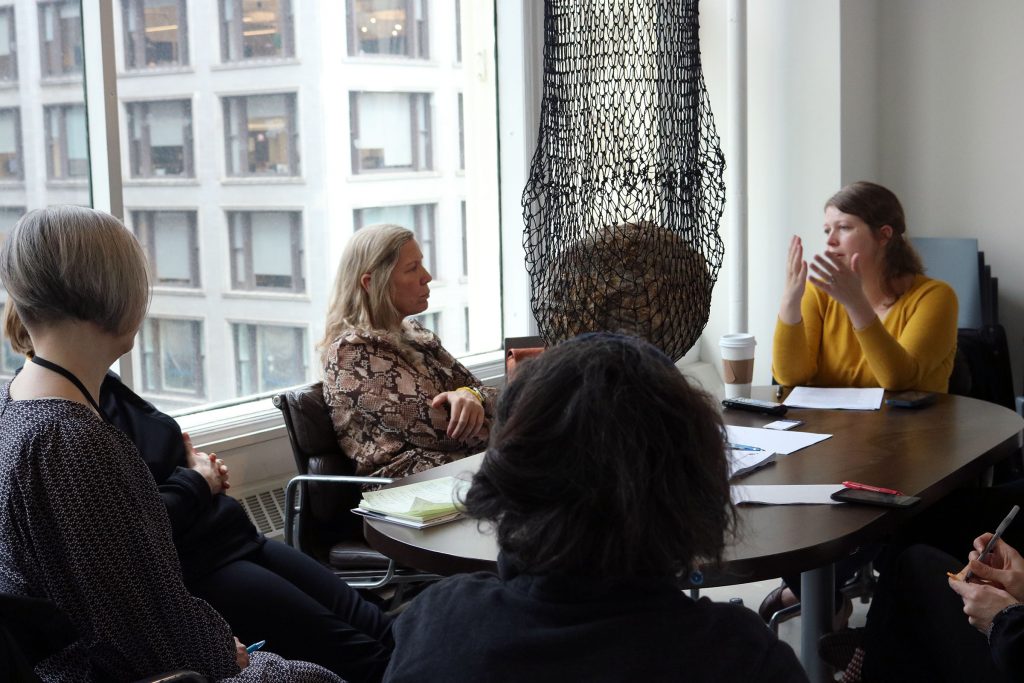 ---
MONDAY, OCTOBER 21, 2019  | 6:00 PM
It is my pleasure to contact you through this medium
David Hall and Julia Pello performance
SAIC Sullivan Galleries
33 South State Street, 7th floor
It is my pleasure to contact you through this medium is a heavily mediated performative lecture that constellates the forms and materials of market speculation, content provision, selfhelp listicles, DIY tutorials, and the promise of self-realized, individual liberation. Framed and presented as an employee orientation, It is my pleasure provides limiting tools for engaging, resisting, and submitting to technological control while refocusing the subjugation of capital away from subjecthood and toward project-hood: the endless refashioning and reinventing of class struggle as a self-realized struggle with oneself.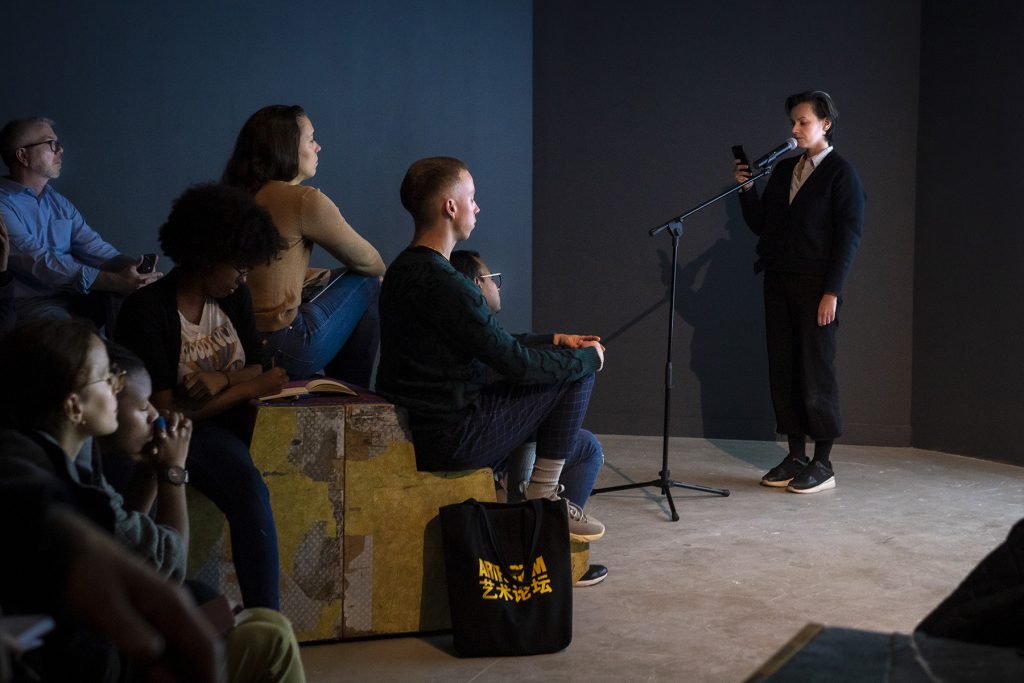 ---
THURSDAY, NOVEMBER 21, 2019  | 6:00 PM
Conversations At The Edge
Gene Siskel Film Center
164 North State Street
Image Employment – Aily Nash
2012–2019, United States/United Kingdom/Hong Kong/Canada/Italy/Germany, multiple formats, ca.
75 min followed by discussion
Presented in conjunction with the exhibition Re:Working Labor, Image Employment presents a selection of recent moving image works on view in the gallery screening room that investigate various modes of contemporary labor and production. Curated by Aily Nash and Andrew Norman Wilson, the program explores the growing confluence of human and machinic technologies, corporate lifestyle, globalized capitalism and its extraction and exploitation of workers and the environment, and the psychic effects of these forms of labor. Nash introduces the program and joins Re:Working Labor's co-curators Daniel Eisenberg and Ellen Rothenberg in an open discussion afterward.