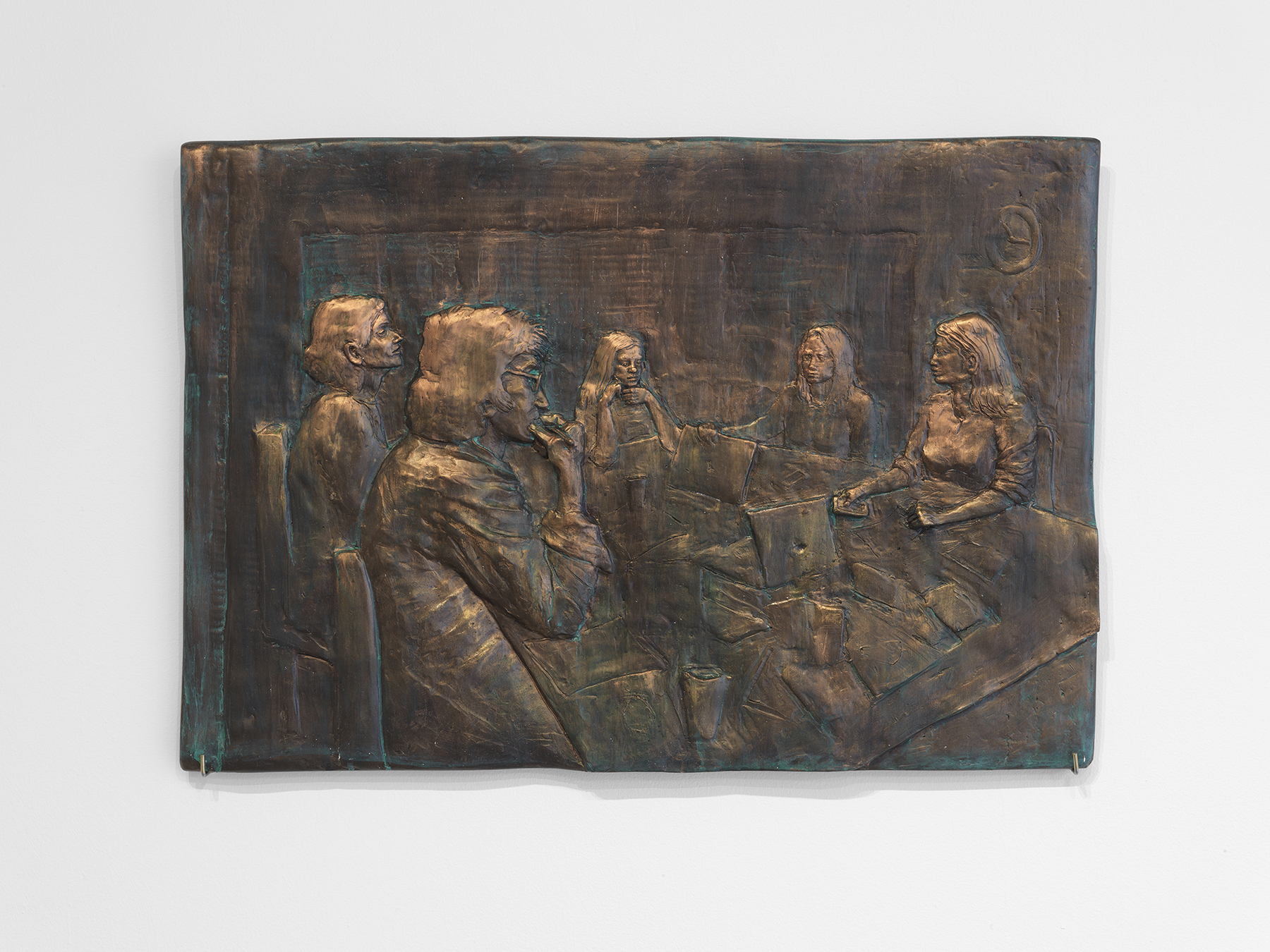 The Last Meeting (Reworked/Resurrected)
Repetitive toil, unseen labor, the obligatory slog of activist organizing, this piece depicts the commonplace, overlooked, invisible work of activism. It is secondarily about the preposterous, but necessary effort to radically reform contemporary art. It is not so much a portrait of specific individuals, though the meeting depicted did take place on February 19, 2016. 
In 2011 Gulf Labor Coalition (GLC) called for a boycott of the recently announced Guggenheim Abu Dhabi (GAD). As a member of GLC we collectively asked: "Who Builds Your Architecture?" The appalling answer is that the GAD was to be constructed by underpaid, unjustly treated immigrant laborers. Thousands soon signed our petition. And then the museum invited us to talk. And talk. And talk. Accomplishing little The 2016 meeting "reworked" in this project was supposed to be different.
GLC gathered representatives from the Human Rights Watch, Building and Wood Workers International, Engineers Against Poverty, and International Labor Organization. Some appeared via Skype. Take-out coffee cups, notepads, documents and laptops aglow with digital attendees made the conference table look like Frank Gehry's abstract GAD design. This preparatory meeting was tense, but also productive. Later that day we would meet Guggenheim Board members to hammer-out a practical and humane contract for the GAD workers. Or so we hoped.
Around noon I snapped a series of pictures thinking how very few images of gatherings like this exist. I have spent untold hours laboring at similar meetings over 45 years. I will also confess the absurd pleasure of rendering this moment in pseudo-classical, social realist style accompanied by a Cephalophore: an undead saint carrying his own head about to frighten the devil. Let's call this style Magic Social Realism.
Why was this meeting the last to date? Several months after our seemingly productive encounter with the Guggenheim the museum broke off all future contact with us. Only later did we realize that a precipitous fall in petroleum prices made the Guggenheim project unfeasible for the time being. Rumors of the project's rebirth reappear on a regular basis. Meanwhile, GLC rests, halos and heads close at hand.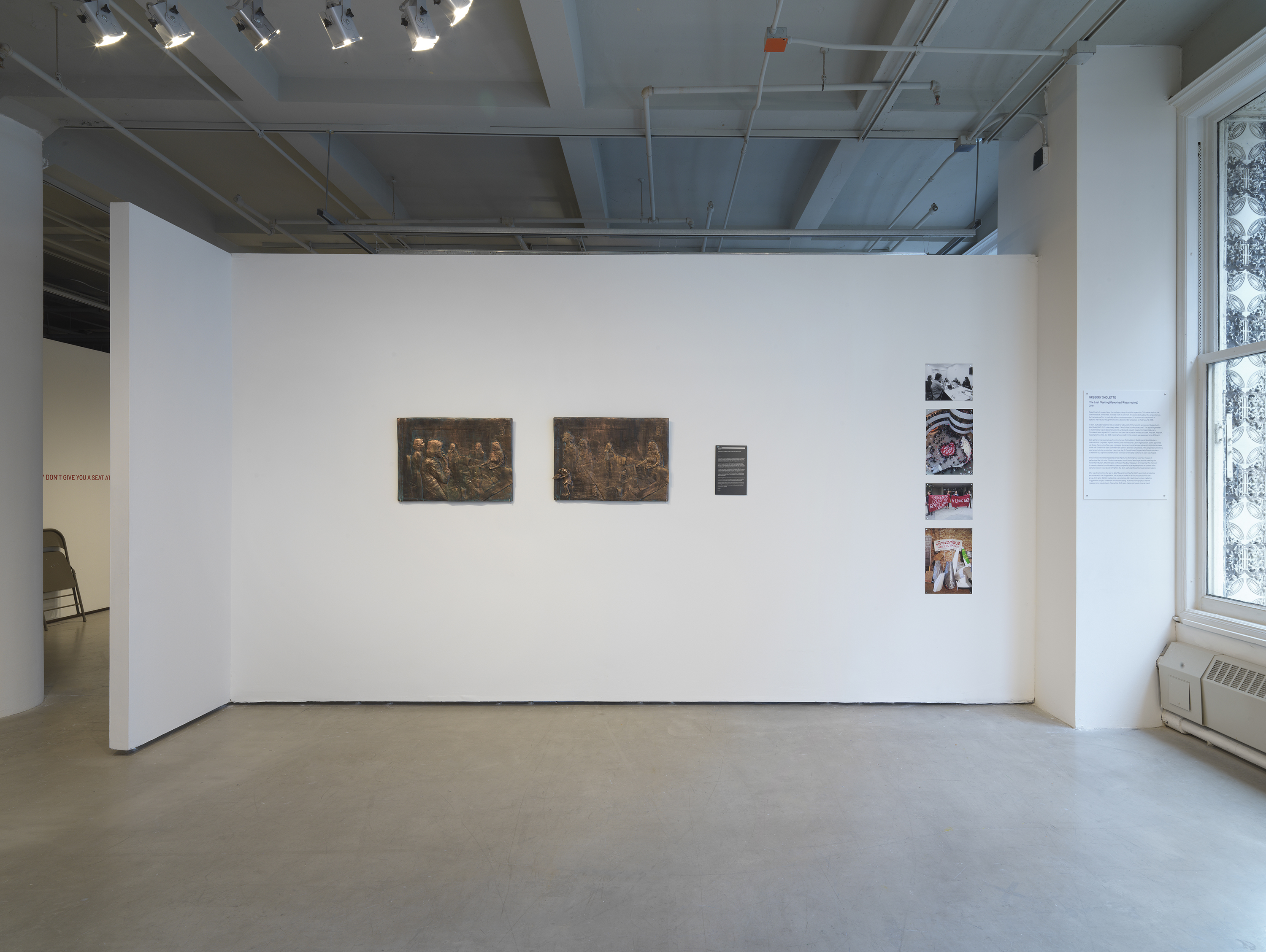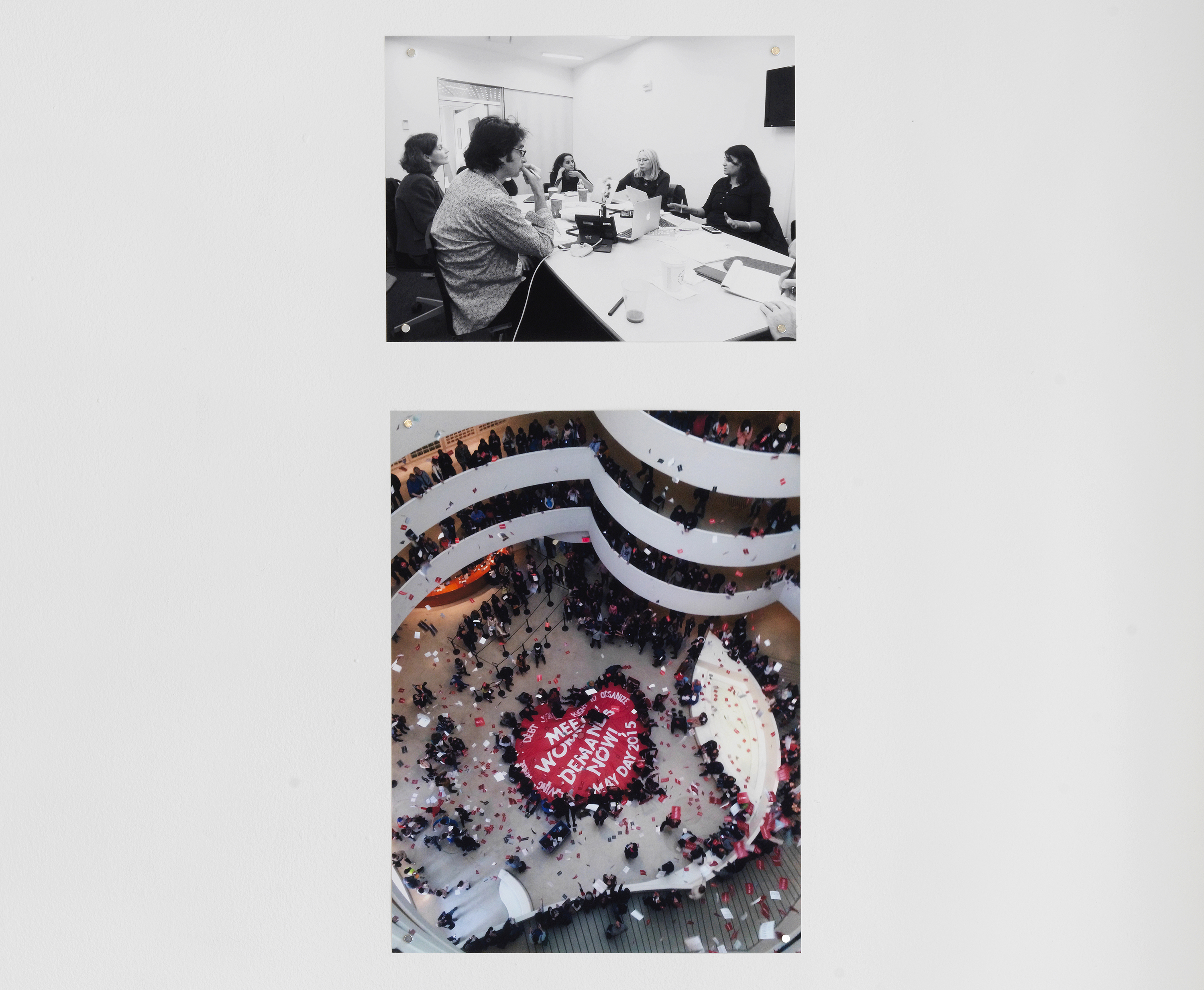 ---
Dr. Gregory Sholette is an artist, writer, activist and founding member of three noted social justice art collectives: Political Art Documentation/Distribution (1989-1988); REPOhistory (1989-2000); and Gulf Labor Coalition (2010-ongoing). He is author of Delirium and Resistance: Activist Art and the Crisis of Capitalism (2017: Pluto Press), and Dark Matter: Art and Politics in an Age of Enterprise Culture (2010: Pluto Press); co-editor of Art as Social Action (2018: Skyhorse Press); It's the Political Economy, Stupid (2012: Pluto); Collectivism After Modernism (Minn. 2006); and The Interventionists (2004, MIT). A graduate of the Whitney Independent Studies Program in critical theory he holds an MFA from UC San Diego; BFA from The Cooper Union, and received his PhD from the University of Amsterdam, the Netherlands (2017). Professor Sholette teaches sculpture, critical theory, and co-directs the Social Practice Queens program at Queens, Queens Art Department, CUNY. He blogs at: www.gregsholette.tumblr.com.