What is Wide Format Inkjet Printing?
Wide format inkjet printing offers unmatched resolution, color accuracy, archival properties and large media sizes. Used for high quality posters, artwork reproduction, photography, oversize book covers, or anything else where the highest quality or largest print sizes are needed.
A paper sample book of all our media is available to view at the Service Bureau.
---
---
  General Guidelines
---
Color Profile & Resolution
We recommend that you work in Adobe RGB (1998) with a minimum resolution of 180 dpi and maximum of 360 dpi.
Files should be flattened with NO Alpha Channels.
File Format
Files should be saved as TIFF or PDF (Click for PDF Settings) at exactly the size you intend them to be printed. We will not adjust files that are submitted incorrectly.
There is a 400MB file limit when uploading. Please make sure your file is flattened, is 8 bit and is at the most 300dpi. We can accept files with at least 180dpi for especially large files. 

If you need to upload a file larger than 400MB, please use the OTHER option in DSF and copy and paste a Google Drive link into the text window. 
TIFF is preferred because all settings are applied visually, PDF can offer different options for Press Printing that our printers don't use, or aren't reflected visually in the PDF but show up during printing. For PDF files we recommend using the PDFx1A export settings.
Document Size & Borders
The document you upload should be the exact size you intend it to be printed. We do not scale files and will ask you to resend files that don't match the order form.
If you require a white border around the image you will need to add this to your document before submission.
The width and height you input and the file you upload should be the same exact dimensions. The size information must be entered correctly into the Digital Storefront because this information is used to calculate the price of your order. Not including the correct size information will delay or cancel your order.

Your file will be printed with crops marks on a larger sheet of paper. If multiple files are sent they may be printed on one large sheet, depending on file size. You will have to cut the print to your desired final size.

If you intend to mount or stretch your print, we recommend adding extra bleed to your image. Due to variations in paper thickness that affect roll feeding, the image size of your print may vary up to 1/8″.
Test Strip
A test strip can be selected as an option in the Digital Storefront. There is no charge for the first test strip. The test strip will be done within 24 hours of submission of your order.
---
Please be sure to read our Policies and Guidelines + Reprint Policy.
---
  Turnaround

---
Turnaround times are in business days and do not include weekends or holidays. Test strips will be completed within 1 day after file submission.
Once you approve the test strip we will begin production on your final print.
3 business days – Standard turnaround time, no additional cost is incurred.
2 business days – 50% of total cost applied.
1 business day- 100% of total cost applied.
Test strips add an additional 24 hours to all turnaround times.
Note: Our wide-format printers print on roll media. Your print will be printed at the size you ordered on the appropriate sized media with crop marks to indicate where it will need to be cut down. We will roll your print in butcher paper until it is ready for pick up. Upon request we can add a layer of acid-free glassine to provide further protection for the print.
---
   Pricing
---
There is a 2 square foot pricing minimum on all inkjet orders.
Our Digital Storefront will give you an exact quote using the width x height (in square feet) + the cost of the media.
Enter the quantity, size, and paper type in the Digital Storefront like a normal order, at the bottom of the window it will display the price. Items can be 'Added to Your Cart' or 'Saved for Later' depending on when you want to submit the order.
Inkjet prints are priced by the square foot. To calculate out the square footage of your file use this equation: (height" X width") ÷ 144.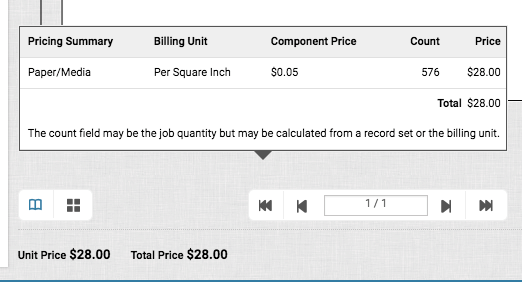 To estimate how much a print will cost you need to know your image's exact height (H) and width (W) in inches. Using those dimensions you can figure out the square footage.
(H" x W") ÷ 144 = (# of sq/ft). This number you will then multiply by the cost of the paper.
---
   Order Submission
---
Wide-Format Inkjet orders are submitted via our Digital Storefront at sbureau.artic.edu
---
Price Quotes
The Digital Storefront provides a real-time price quote without placing an order. Simply choose the Wide-Format Inkjet product, put in the width and height, choose the desired media and the price quote will display in the lower left of the screen.
At any time if you feel that the jobs are not being calculated correctly please alert us in the Special Instructions section and we will make sure the total is correct.
Ordering Multiple Files
If all the files you will be ordering are the same size you can simply add them all at the top of the window with the Add More Files option during document upload. The DSF will add up the total square feet for the multiple items and list them in the same order.
If you have files that are multiple sizes you will have to add them to your cart individually. After adding each file to your cart simply click the Return to Storefront option and continue with the next file. Although this is time consuming it will allow DSF to calculate your job correctly with the collective square footage for all jobs combined.
Payment
We only only accept ARTICard payments for jobs is required when you pick up your order and are paid for with your ARTICard. For more information on what ARTICard is and how to add funds to your account please visit the ARTICard departments page here.
Pick Up
The Service Bureau does not offer finishing options on wide-format inkjet prints. Your print will be printed at the size you ordered on the appropriate sized media with crop marks to indicate where it will need to be cut down. We will roll your print in acid-free paper until it is ready for pick up.
---
If you are having difficulty using our Digital Storefront please contact the Service Bureau at 312-629-9155 or sbureau@artic.edu.
---
Media We Stock
---
A full list of wide format inkjet papers and specs for each media are available on our Media We Stock page.
Not all media are the same roll size so you will notice in DSF there will be a limit to the width of your files being uploaded. We do not print full bleed on these rolls so the limit for printing is 1-2″ shorter than the roll.