---
---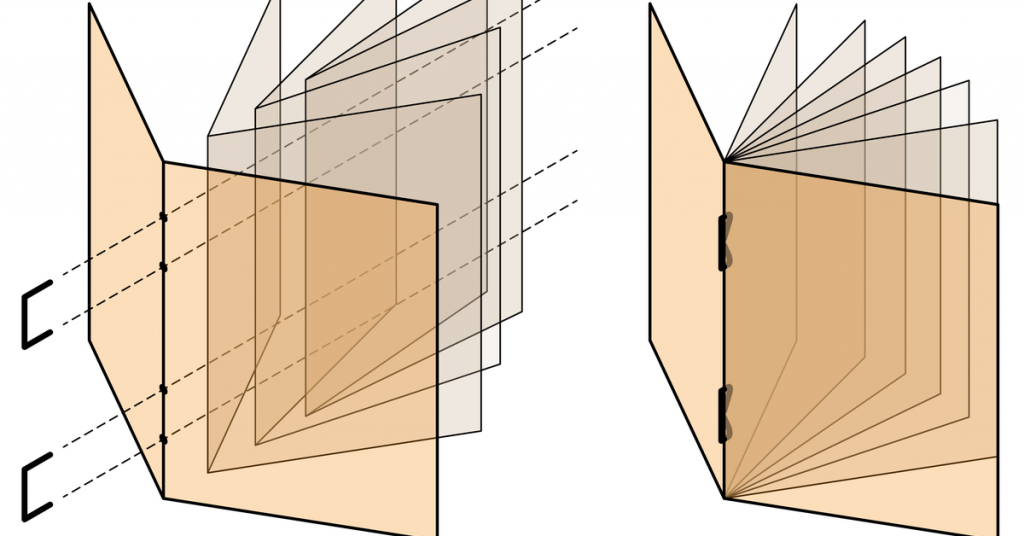 Saddle Stitching refers to a very popular book binding method in which folded sheets are gathered together one inside the other and then stapled through the fold line with wire staples.
The staples pass through the folded crease from the outside and are clinched between the centermost pages.
When submitting your order online you will be able to select different papers for the body and cover.
---
—> PRINTER LIMITATIONS + BORDERLESS PRINTING <—
---
The Service Bureau printers cannot print borderless or full-bleed. This includes Latex + Inkjet on the roll media and all sheet sizes with Riso and Laser printing. 
All Laser and Riso prints will have a roughly 0.125-0.25″ white border, we recommend to size your file to be smaller or to leave a white border on your images.
You can also select 'Fit to Media' when selecting the Media type and we will shrink or enlarge your file to fit the paper size you selected.
If you need your file to be full-bleed/borderless you must provide bleed and crop marks (and likely select a larger sheet to accommodate the crop marks).
---
PRO's AND CON's OF SADDLE STITCHING
---
Pros:
Inexpensive:  Saddle stitching is among the least expensive binding options for booklet materials.
Laying Flat: Unlike perfect bound binding, saddle stitched documents lay flat very easily when opened.
Quick To Make: The turnaround time on producing saddle-stitched materials is very fast because there is no glue heating and drying process involved.
Cons:
Less Substantial: The binding of a saddle-stitch for a mass-produced document does wear on the paper with time and use.
Limited Pages: The nature of saddle-stitch limits the number of pages possible to include due to the spine fold in the bound materials.
Lower Quality Look: While a brochure may look stunning, saddle stitch binding will keep it looking like a brochure or magazine. It is designed to be a less expensive bind typically for time-sensitive material.
---
GENERAL GUIDELINES
---
Saddle stitch books are printed on the Laser printers.
Most of the papers we stock are available for Saddle Stitch Books.
Paper samples are available outside the Service Bureau (Sharp 1111). 

Standard sizes available in most media.
5.5″x 8.5″, 8.5″x 11″, 11″x 17″
Larger sizes are available for specific media only. (
Hammermill, Neenah Solar White, Futura Gloss and French Paper)
12" x 18", 12.5″x 19″, 13"x 19" ( Hammermill Only)
A Saddle Stitched booklet needs to have pages in multiples of 4. This is because each sheet of paper, double sided and folded, will automatically add four pages to your booklet.
This means that your file should have a number of 4, 8, 12, 16, 20, 24, 28, 32, etc. pages. If it is not in multiples of four the software will add a blank page to your document, throwing off your order and causing it to print incorrectly. We will not adjust files that are submitted incorrectly

The first two pages and the last two pages of your document will be your booklet cover. If you do not wish to have any printing on the inside covers of your booklet, then simply make those pages blank pages in your document.
You can designate a thicker paper for your cover and use text weight for the interiors. Take a look a the Submission Guidelines link above for specifics about ordering through the Digital Storefront.
---
FULL BLEED vs. NO BLEED
---
File Setup & Exporting will be different for Full-Bleed and No-Bleed books so it's important to know what you want before you start.
What is Bleed?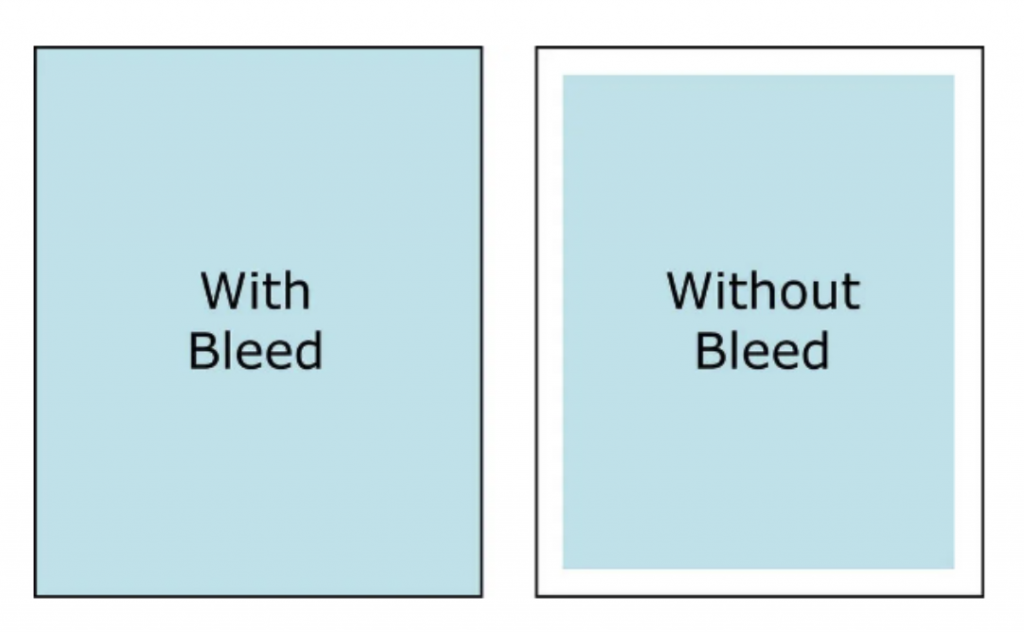 It is the area added to the outside of a printed document that will be cut off during production allowing artwork and page elements to reach (and appear to go over) the very edge of the page.
Full Bleed booklets are essentially printed slightly larger with a little more of your artwork on the edges than the final size. We trim all the books edges so after being bound your artwork goes to the exact edge and the intended size of the book.
Full Bleed Booklets:
Will require a bleed area and marks for cutting added to your file. You will use the Print Booklet Exporting process for submission. We will be cutting your book to a finished size.
No Bleed Booklets:
Does not require the addition of a bleed area. Files are submitted as single sheets. Your booklets are printed on standard sheet sizes and not cut.
-> If you create your pages with images that extend to the edge of the page WITHOUT adding a full bleed margin, your pages will still have a white border.
You can order your books 'Folded But Not Stapled' if you want to bind yourself or add additional pages.
---
File Preparation
---
Detailed file setup and exporting instructions are available in our How to Booklet for Saddle Stitch Books.
File Type: PDF (Click for PDF Settings)
Page Limit: Approximately 40 pages
---
No Bleed Booklets – Standard Size Sheets with No Cutting + Borders 
---
Single pages: You do not have to paginate (impose) your booklet, or to lay it out in spreads if your booklet doesn't requires cutting. Our printing software will handle all page ordering and imposition.
Set up the document size of your document to be the final size of your booklet.
For example, if you are ordering a 5.5×8.5" booklet, saddle stitched, then setup your pages to be 5.5×8.5" each, do not setup your pages 2-up on an 8.5×11" sheet. If you want your finished booklet to have 16 pages, then your document should also have 16 pages.
---
Full Bleed Booklet – Borderless Booklets or Non Standard Size to be Cut Down
---
If your booklet requires trimming because it has a full bleed or it ends up being a specific size that is smaller than the sheet it is printed on then you will need to do one extra step before when exporting your document.
Our laser printers are unable to print full bleed so will automatically leave a 1/8″ white edge or border around the pages of your booklet. If you do not what the white edge you will need to set up your file so that it can be cut down after printing.
See our page on Borders and Bleeds to learn more about setting up InDesign for bleeds.
If you have artwork that bleeds to the edge of the printed page and you want us to trim down the excess, then you need to make your sheet size large enough to include crop marks and bleed.
For example, if your finished size is 5.5″x8.5″, the document page size might be 6.5×9.5 to include both bleeds and crops. This will also mean that we will need to print your booklet on a larger sheet than 8.5″x11″ to accommodate the cut marks. This will affect your price since the booklet will be printed on larger paper and cutting charges will be added to the total.
Professional page layout software such as Adobe InDesign has built in ways to do this for you.
The Print Booklet feature allows you to impose your document to include the bleed needed for borderless images, it also allows the larger paper size available in the Service Bureau Print Driver to be used.
Step by step instructions of how to export your files are available in our Everything You Need to Know About Saddle Stitch guide.
---
 Turnaround
---
Standard turnaround is 24 hours. There are no Rush options for Laser jobs.
We do not do "proofs" before running larger jobs. If you are running a large job and want to see a proof, turn in a job for only 1 copy of your document. This will be completed in 24 hours. Once you are satisfied with the outcome you will then turn in the final order for the number of copies you want.
---
   Order Submission
---
Saddle stitch book orders are submitted through the Digital Storefront. 
You have a few variations to choose from for folding, stapling and finishing.
You can have us print without folding or stapling. This means you will be folding and stapling yourself.
You can do the half fold with no stapling.
You can have us fold, staple and cut. We will only cut booklets if ordered in quantities over 5.
Page Count Limitations
Paper thickness affects the thickness of the booklet and therefore Saddle Stitched Booklets may have page count limits. Depending on number of pages in the booklet, the paper choices for the cover and interior pages you may find that the booklet is unable to be stapled or close when laying on the table. 
Please discuss with a technician or student worker at the counter if you are considering printing a saddle stitch book with more than 40 pages. We can advise on paper selection to minimize the issues once printed and to make sure the booklet will be able to be stapled in the machine.
---
All jobs will be quoted in the Digital Storefront before submitting. 
---
Saddle stitch books are priced the same as Laser printing.
Due to the way saddle stitch books are constructed, 2 pages of your file will fit on each spread. So, if your document is 8.5×11″ and has 32 pages, you will be charged for 16 11×17″ spreads (Which will be printed double sided on 8 sheets of papers). This is because we charge based on the each printed side, not per sheet of paper.
*Prices per printed side