Our machine is an MZ-1090 and has two drums, which allows it to print two colors in a single pass.
---

---
What is Risograph Printing?
---
Similar to screen printing, the Risograph MZ-1090 uses single colors to print designs from a master stencil. Great for bold designs, posters, comic art, pretty much anything with a graphic quality to it. 
Riso sits between screen printing, photocopying and offset printing. Images are made using a stencil-based printing process and soy based inks. This gives riso-prints a result similar to silkscreen with vibrant bright colors. 
One color is printed at a time, and multicolored prints are made by switching out each drums or cylinders, printing over each layer, passing the paper through the machine multiple times.
*If you're looking for photographic quality reproduction, we recommend using our Inkjet or Laser printing services instead.
The link above to our How To Booklet for Risography goes over in detail how that machine works.
You can also watch this video from RISO that goes over the machine and how the magic works. 
---
  General Guidelines
---
Order Minimum: 10 Copies
Maximum Size:  8.5″x11″ or 11″x17″
We ask that you do not set up your artwork to be the exact size of the sheet of paper. There is a printable area for each that you can find in our How To Booklet for Riso. 
Papers: *Uncoated Papers up to 80# Cardstock.
Our Risograph reliably accepts paper weights between 50# text and 80# cover. We do offer many papers, but we are happy to try out a new stock. 
---
Media Options
---
A full list of uncoated papers and specs for each media are available on our Media We Stock page.
We can accept customer supplied media for Risograph orders.
When looking to purchase paper for your project, keep in mind Risograph ink primarily dries by absorption, so the paper must be uncoated. Paper that has a little bit of a tooth works best. Please email is a link or bring a sample for us before buying to make sure it will work.
Information about Customer Supplied Media requirements.
Many of our inks, especially metallic gold and white, are only really opaque enough to show up on darker papers like black and nightshift blue.
*Uncoated stock is paper that has no coated pigment applied to reduce the absorbency or increase the smoothness. The uncoated finishes can be described as vellum, antique, wove or smooth.
---
  File Preparation + Order Submission 
---
You will be using our online Digital Storefront submission process. Below are general guidelines and instructions on file naming and file upload with the DSF interface. Please refer to our How To Booklet for greater detail and tips and tricks for files set up.
For print, artwork should be:
Flattened PDF (no layers or transparencies.)
Set to Graysale / B&W
Resolution = 300dpi
Each color layer saves as a separate file.
Because of the nature of Risograph, the number of files needed for printing and the limitations of our Digital Storefront we are going to require our users to name their files in a specific way when submitting.
Please follow the link below for instructions on file naming above in the quick links.
If you submit without following our naming conventions we will ask that you resubmit which may result in your job being delayed.
---
  Turnaround 
48 hours + 24 hours for each additional color.
Turnaround times are dependent on drying time between printing each color and side.
Riso Booklets with multiple colors and sides may take longer.
There are no Rush options for Risograph.
---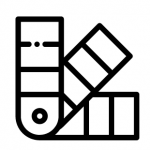 Colors
---
We currently have 15 colors. We show you here an approximation of the RGB color and the Pantone reference information.
Risograph ink is translucent, so its final appearance depends on the color of the paper it is printed on and the layering of each ink. Colors can be overprinted to create new ones. it is possible to blend any combination of tints together to produce color variants.
We have an Adobe Swatch file of all the ink colors available for download here:
This may not be available with Adobe's new Pantone Swatch licensing.
Command Click on the link to get a drop down menu.
Choose Save Link As...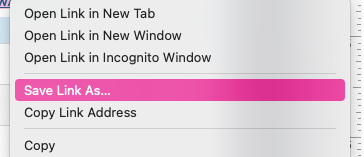 This will allow you to save it to the desktop of your computer.
| | Pantone Color | Hex Color | Color | |
| --- | --- | --- | --- | --- |
| | PMS-Black U | Hex #000000 | Black | |
| | PMS-235U | Hex #914E72 | Burgundy | |
| | PMS-806 U | Hex #FF48B0 | Fluorescent Pink | |
| | PMS-185 U | Hex #F15060 | Bright Red | |
| | PMS- 021 U | Hex #FF6C2F | Orange | |
| | PMS- 116 U | Hex #FFB511 | Sunflower | |
| | PMS- Yellow U | Hex #FFE800 | Yellow | |
| | PMS- 380 U | Hex #D4E356 | Lime Green | |
| | PMS- 354 U | Hex #00A75C | Green | |
| | PMS- 320 U | Hex #009DA5 | Light Teal | |
| | PMS -292 U | Hex #62A8E5 | Cornflower | |
| | PMS- 3005U | Hex #0075BF | Blue | |
| | PMS- 275U | Hex #5D5580 | Purple | |
| | PMS- 872 U | Hex #AC936E | Metallic Gold | |
| | | Hex #AC936E | White | |
---
FILE NAMING INSTRUCTIONS 
---
Because of the nature of Risograph, the number of files needed for printing and the limitations of our Digital Storefront we are going to require our users to upload jobs and name their files in a specific way when submitting.
---
A huge benefit to all Digital Storefront users is that the cost of your job will be calculated as you submit so there will be no surprises when you come to pick up your order.
If the files are not named correctly we will not be able to process your job and will ask that you re-submit. This can lengthen the turnaround time of you order.
For each order will need a file for every color you'd like to print with, plus 1 additional file of a full color digital proof.
---
We would require that each file you are going upload to have printed use following naming convention:  Lastname_Filename_Color_Quality_Side.pdf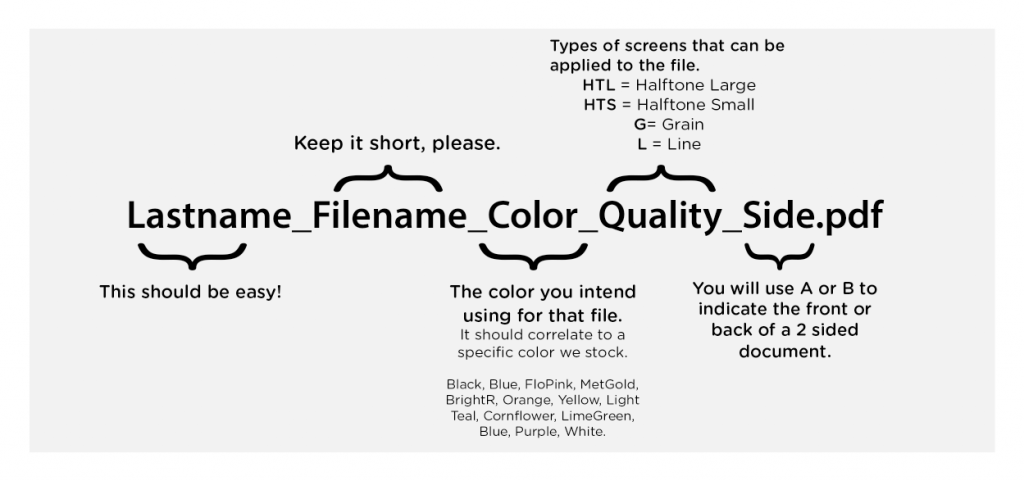 For example, a one-sided two color poster will have 3 separate files, 2 files for the grayscale files and one for the composite proof.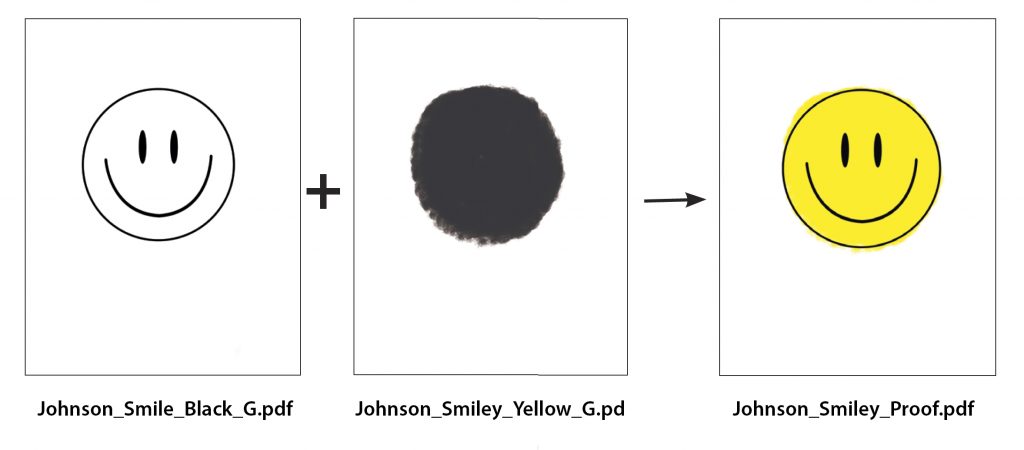 We generally aim to print the lightest color first, and darkest/heaviest coverage layer last, to reduce track marks.
For double sided artworks, include sides: indicated with A for front and B for back. Below is how this might work for this specific job with 6 files total. 
1. Johnson_Red_A.pdf
2. Johnson_Blue_B.pdf
3. Johnson_Red_A.pdf
4.  Johnson_Blue_B.pdf
+
5. Johnson_A_Composite.pdf –> this can be a double sided pdf.
If you will be submitting multiple artworks for printing you will submit them as individual jobs in Digital Storefront. 
Job 1:
1. Johnson_Drawing_Red_HTL_A.pdf
2. Johnson_Drawing_Blue_HTL_B.pdf
3. Johnson_Drawing_Red_HTL_A.pdf
4. Johnson_Drawing_Blue_HTL_B.pdf
+
5. Johnson_Drawing_Composite.pdf    –> this can be a double sided pdf.
Job 2:
1. Johnson_Painting_Red_G_A.pdf
2. Johnson_Painting_MetGold_G_A.pdf
3. Johnson_Painting_Blue_HTL_A.pdf
4. Johnson_Painting_MetGold_G_B.pdf
5. Johnson_Painting_Red_G_B.pdf
6. Johnson_Painting_Blue_HTL_B.pdf
+
7. Johnson_Painting_Composite.pdf –> this can be a double sided multipage pdf.
Job 1 is a two sided artwork with Red and Blue on two sides.
Job 2 is a two sided job with Red, Metallic Gold and Blue on both sides.
Each job includes a Composite file for both sides of each job.
After adding each file to your cart simply click the Return to Storefront option and continue with the next file. Although this is time consuming it will allow DSF to calculate your job correctly with the collective cost for all jobs combined.
Without the proof file we won't be able to see what results you're anticipating, and therefore can't point out any potential issues or mistakes. You don't need to match the colors exactly, it's just to give us an feel for your artwork.
---
File Set Up – Saddle Stitch Booklets
---
Booklets require a slightly different setup as they need to be imposed or "paginated" before printing. This means laying out each page side-by-side, so the front cover is next to the back cover.
Below is an example for an 8 page double sided booklet.
*Remember if you want your booklet to appear full bleed you will want to create a bleed area and crop marks for us to cut your booklet down.
The booklet and the crop marks should still be inside the suggested print area. This means your booklet maybe slightly smaller than expected to accommodate the margins needed.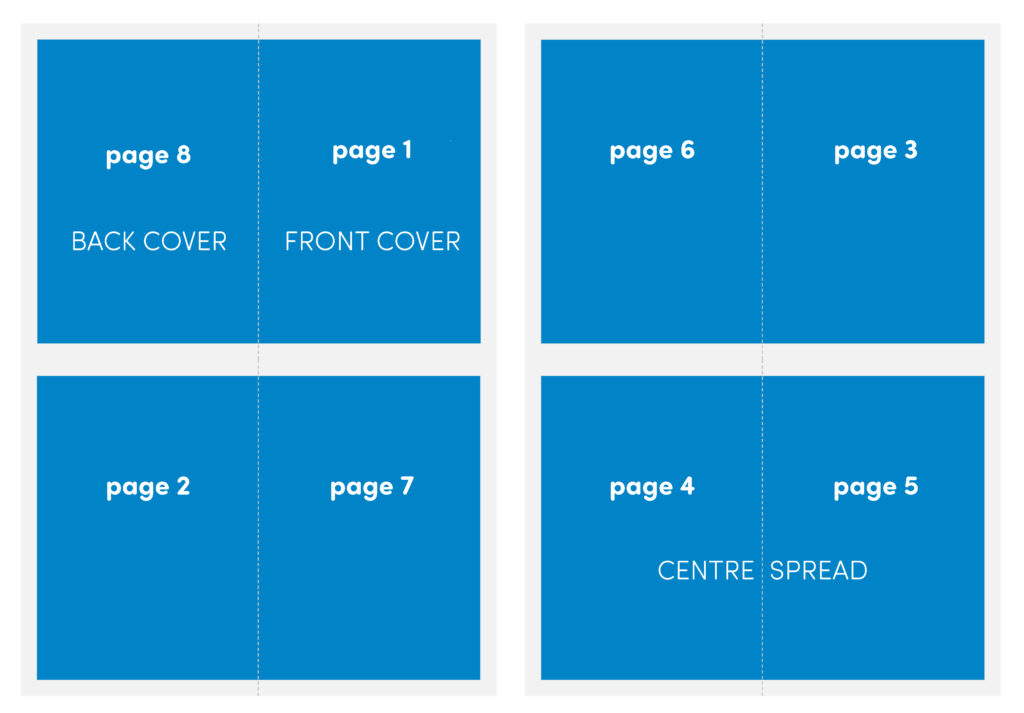 Setting up a book or zine is very similar to posters or a print but there are a few things to be aware of before submitting for Risograph Printing.
1. The Riso machine does not fold or staple your booklets. We do not offer folding or hand stapling for booklets.
2. We can crease the paper before printing so that all you will have to do is collate and staple your booklets together. We have a stapler here you can use on the 11th floor to do this.
3. We can cut booklets if crop marks are provided either before you put them together or after depending on your preference.
---
We are going to ask that you *impose your files* and upload
a multiple page PDF for each color you will be printing.
For example, if you have an 8 page booklet with 2 colors (black and blue) you will turn in three files in total.
2 for printing and a composite.
The Black and Blue file will have 3 sheets each with 2 pages for each sheet to be printed front and back.
Johnson_Booklet_Black_G.pdf
Johnson_Booklet_Blue_G.pdf
+
3. Johnson_Booklet_Composite     –> this should be a full color double sided pdf.
---
What is Imposition?
Imposition refers to the process of arranging a book's pages so that once the printed signature sheets are folded and trimmed, the pages will appear in the correct order.