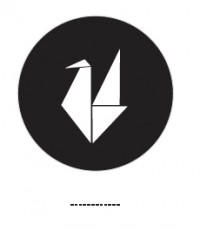 Produced by the Service Bureau at The School of The Art Institute of Chicago, The FOLD is an editioned print series drawing from the wealth of Students, Faculty, Staff and Alumni within the SAIC community. The FOLD is an opportunity for these artists to experiment with print technology as well as showcase the digital output options SAIC's Service Bureau has to offer.
---
ANDREW HOLMQUIST / 2015
Our inaugural artist of 2016 was Andrew Holmquist. Andrew received both his BFA and MFA in Painting and Drawing from The School of the Art Institute of Chicago in 2008 and 2015 respectively. He is represented by Carrie Secrist Gallery in Chicago.
2015
The 5″x 5″ folded Risograph piece was printed on French Paper Company's Construction Pure White.  www.frenchpaper.com
---
YEWON KWON / 2016
Our second FOLD artist is Yewon Kwon. Yewon was a junior at SAIC studying Printmedia, Sculpture and Narrative Works. She was a Production Assistant in the Service Bureau and worked in the traditional Print Studio, was a member of the comix collective XEROXCANDYBAR, and edits and curates the publication series PALLOR PINK. She also runs an Instagram of dog paraphernalia.
The 5″x 5″ folded Risograph piece was printed on French Paper Company's Construction Insulation Pink.  www.frenchpaper.com
---
SONJA THOMSEN / 2017
Sonja Thomsen is a Milwaukee-based artist whose multifaceted practice combines photography, sculpture, interactive installation and site-specific public art to create spaces reflective of our own perceptions. She is a member of the international photography collective Piece of Cake – POC and co-director of The Pitch Project. Sonja is currently a Lecturer in the Photography Department at SAIC.
---
ROBERT RUSCH / 2018
Robert is an SAIC Alum whose practice is a multidisciplinary process with a focus in printmedia, sculpture, and bookmaking. See more of his work at cargocollective.com/robertrusch
@robbie_roughneck
Robert Rusch and The Buffalo Institute for Art – RISO RISO
Listen to Robert discuss Riso and his show at Bics School Lab – Interview starts at about the 50:00 mark. 
2018
---
MELISSA LEANDRO / 2018
Melissa Leandro is a Chicago-based artist who explores her cultural identity and family memories to create vibrantly layered, topographical textile works filled with her drawn and collected imagery. Melissa is a Lecturer in the Fibers Dept. and serves as the Assistant Director of the Fiber & Material Studies Department.
BFA, MFA, The School of the Art Institute of Chicago.
Currently represented by Andrew Rafacz Gallery.She is both faculty and staff in the Fibers and Material Studies Department.
---
JARAD SOLOMON / 2019
Jarad Solomon is an artist, designer, and educator based in Chicago, Illinois. Solomon received his BA from UCLA in design media art, and his MFA from SAIC in Art and Technology.
Fascinated by collection and analysis, Solomon's work takes uniquely inspired directions and diverse forms within fields of new media, public installation, product design, and print/publishing. Solomon creates work in series, employing digital and physical methods of image/object scanning.
Jarad's fold had an interactive element that allowed the viewer to scan the printed piece and the wall covering on the wall with their phone via an augmented reality app that would activate visual movement within the image.
You can see documentation of this effect on Jarad's website. 
MFA, The School of the Art Institute of Chicago.
www.jaradsolomon.com
@jaradsolo
---
MARGARITA MORENO / 2022
Margarita Moreno is a Colombian artist based in Denver, who focuses on reflecting on the immediate environment: the place that human beings occupy in the universe. Inhabiting this small space in the universe, how we relate with humans and all non-human kinds.
"In the relationship between the human and the nonhuman, inhabiting becomes a direct correspondence between these two. This is why these thoughts have emerged in common places: a classroom, a park, a road, a bed, a room, the landscape seen through a window. Although drawing is my first language, my works are interdisciplinary, including printmaking, weaving, art bookmaking and sculpture."
MFA, The School of the Art Institute of Chicago.
@margaritamorenoc