---
WHAT IS PERFECT BINDING?
---
Perfect Binding is a form of bookbinding in which the books pages are bound by gluing together single sheets rather than by sewing or stapling.
With this binding method, the pages and cover are glued together at the spine with a strong yet flexible glue. The other three sides of the book are then trimmed as needed to give them clean "perfect" edges.
All of our books are measured and cut by hand, not in a machine, because of this we limit the quantity to 10 books per month. The minimum number of pages is 40.
Perfect bound books look clean and professional. Ideal for show catalogs, portfolios, photo albums, small run comics, and self published artists books.
---
FILE PREPARATION
---
2 separate files – a file for the cover(s), and a file for the body of the book.

Both files need crop marks and bleed marks to align during binding and ensure that we cut your book down to the correct size.

The body of your book must be single pages, not spreads.

Body file must have at least 40 pages.
---
FILE FORMATS
---
All files must be exported and submitted as a PDF (Click for PDF Settings).

---
MEDIA CONSIDERATIONS
---
Perfect Bound Books are printed on the Laser printers and are able to use any paper that fits your file size.
We do not recommend Transparency or Vellum as it does not accept the glue needed to hold sheets together.
---
Due to the width of most book cover files, oversize books (larger than 8×10″) are only available to be printed with Neenah Solar White 100# Cover.
---
You can supply your own paper or work already printed, but some papers won't work in our printers or binder, so check with the a Service Bureau Technician before submitting your job.
---
If you want to use more than one media you will need to submit a separate Laser order for the second paper type (let us know in Special Instructions), you will need to come in and collate the two paper types together before binding
---
LAMINATION – COVER OPTIONS
---
Types:  Glossy or Matte (front side of the cover only)

Benefits:  Laminating the front cover protects it from general wear and gives the book a professional look. 

Prices:  Adds $5.00 /book
---
SPINE CALCULATION
---
Refer to our spine calculation table to estimate how wide the spine will be.
This will give you a general idea how much length to add for your spine. 
If you want text on your spine, be sure to make it small enough to fit.
*We highly recommend a proof when using text on the spine.  
---
—> column + gutter trick for making a spine in InDesign<—
---
Find the number on the spine calculation table that you are going to add to the length of your cover file.
Make a new file with the height of your book and then add length of your cover file. .
(Length = 2 widths of your book + spine calculation)
The example below is an 8″x10″ book. The width is 8″ x 2 + .125″ for the spine.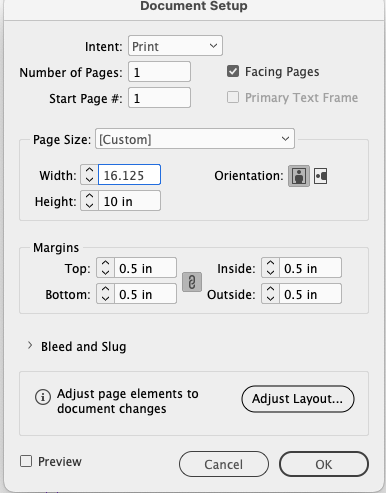 Once you have your file size set choose Layout> Margins and Columns.
The popup window will have an area for Columns.
Here you will change it from 1 to  2 and then place the spine calculation in the Gutter area.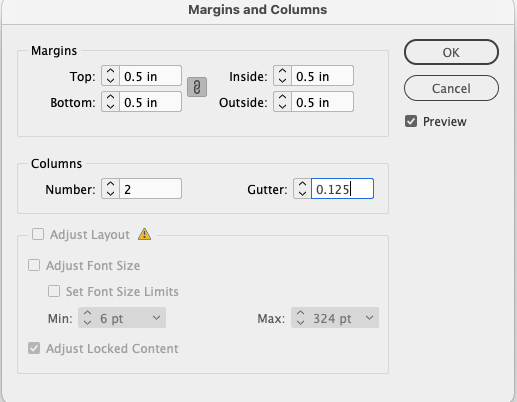 When you click 'ok' you will now have guides in your document to help you place content.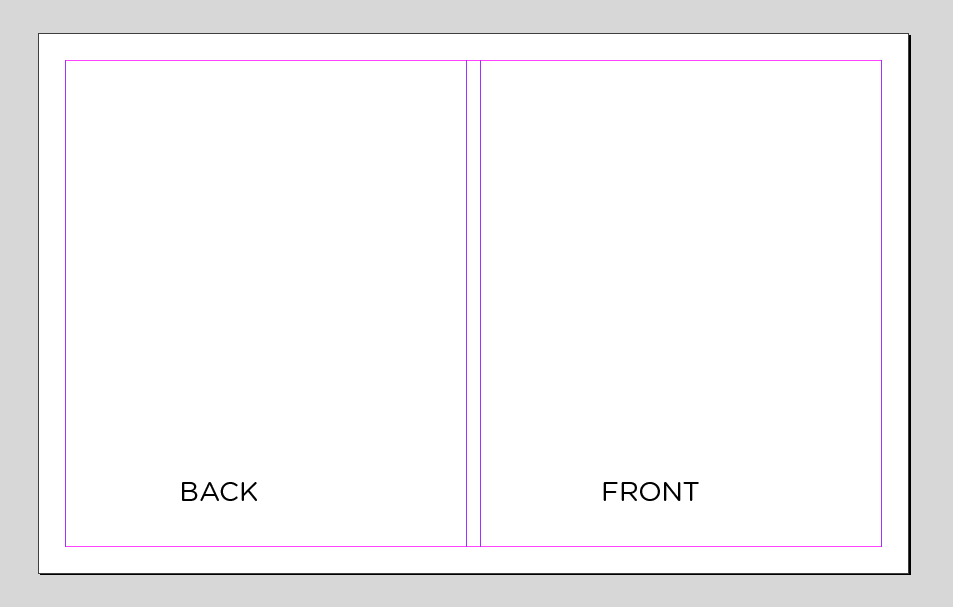 ---
TURNAROUND TIMES
---
Perfect Bound Book orders can take 10 business days to fully complete your order. Books are mostly made by hand by our technicians.
Proof books are usually ready in 4 days, and the finished book(s) 6 business days after approval of the proof, not including weekends.
Perfect Bound Books without a proof take 6 business days to complete. During busy times of the semester such as Critique and Finals weeks these times may double.
—> We highly recommend getting a proof of your book, they are the full price of one book.<—-
---
QUANTITY OF BOOKS ALLOWED
---
We limit the quantity of books that can be ordered per user to 10 books per month.
Unfortunately, the binding process here at the Service Bureau is all by hand which takes a considerable amount of production time and pulls staff away from their other duties.
For this reason, we reserve the right to deny certain amounts for Perfect Binding requests.
We are happy to recommend other vendors if you are looking for large quantities of books.
---
SUBMISSION GUIDELINES
---
Visit the DSF Submission Process page for step-by-step instructions when uploading to the Storefront.
---
PRICING
---
All quotes and order submissions are via our Digital Storefront: www.sbureau.artic.edu
If you have any concerns about the process or have questions regarding the cost of your book please sign up for a consultation with one of our technicians.
Perfect Binding is one of our most expensive binding processes and is really meant for small artist book editions.