Everything You Need to Know About Spiral & Wire-O Books Guide 
What is Spiral Binding?
Spiral Binding, also known as Coil binding, is a commonly used book binding style for documents. Coil Binding uses a coil that is fed through small holes punched in the pages and cover of the book. The coil holds the pages and cover as an assembly yet still allows them to open freely. One of the primary user benefits of a coil bound book is that the pages can be opened a full 360 degrees (cover to cover). This allows an open book to fold back upon itself and yet still remain flat, so it stays open for easy reference and yet takes up minimal room on a desk or table.
This binding style is durable and is often used for books like notebooks, handbooks, photo books and portfolios. Spiral binding spines are available in a multitude of colors to best suit your project needs. Wire-O binding is similar in technique but uses a slightly different wire loop system to secure the book.
We recommend Spiral binding over Wire-O binding because the spirals stand up to long term use better and are available in more sizes and colors.
Spiral: Our plastic spirals are available in 10 colors. Yellow, Fuchsia, Reflex Blue, Clear, Mint Green, Teal, Orange, White, Black and Red.
We have spirals that range from 6mm-15mm in diameter, so we can make books up to generally ½ inch thick (about 160 sheets of text weight paper).
Custom colors and larger sizes are available for order here – any spirals purchased from this website will work with our machine's pitch of 4:1.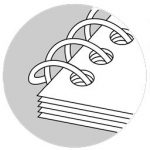 Wire-O: Uses a twin loop system. We have a number of color choices. Please stop in to see our samples before ordering. Black, white, red, green, blue, silver and gold.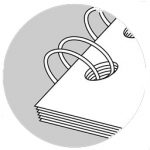 ---
---
  File Preparation
---
Everything You Need to Know About Spiral & Wire-O Books Guide 
File Format:
PDF (Click for PDF Settings), export as Single pages (not spreads).
If there is any information that goes to the edge of the page, please provide crop marks and a bleed so we can cut it down properly.
Maximum Number of Pages: 100
(Thinner papers, such as bond paper, may be able to do more.
Margins:
We suggest leaving a gutter margin of at least ¼ inch on the side you intend to bind, this leaves space for punching holes needed for binding without cutting off your images or text
Size: The sprials themselves are 11-12 inches in length, so any books taller than that will have the spiral centered in the middle of the book unless otherwise specified.
Covers:
Your cover will simply be page 1 of your pdf, and the back cover will be the last page of your pdf. We also offer the option to include a clear plastic cover (for books up to 11x17in) and a card-stock front/back cover to make your book more sturdy.
---
  Turnaround
24 Hours. Depending on the volume of booklets and any finishing you are requesting the turnaround may increase. If you have a deadline you are hoping to meet with a large personal or departmental order please contact before submitting so we can determine a timeline for your job.
---
   Pricing
Binding Only: $3.00
Binding w/ Cardstock Covers: $3.50
Binding w/ Clear Covers Only: $4.00
Binding w/ Clear Cover and Cardstock Back: $4.50
---
---
DSF Order Submission Guidelines
---
Order Form
You will fill out the areas at the top of the order form with your File Info, Output Choices and Size of paper you wish it to be printed on.
Custom Sized Books
If you are making a book that is not a standard size we will have to cut it down after printing.
In order for us to cut it down to a specific size you will need to provide cut or crop marks so we know where we will be cutting it down.
Smaller books will be trimmed exactly to the size, then bound with the spiral.
Paper Type
You can designate which paper you want for the inside of your book and a paper for the cover.
Finishing
At the bottom of the form is an area for all the Spiral and Wire-O choices.
Here you will let us know which side of your book you want the spiral. you can also have choices about a Plastic and/or Cardstock cover and the color of coil that you want.
Please use the special instructions section to let use know about any other issues you are concerned about with the binding of your book.
We can also show you how to use the spiral binder and you can do your own binding for FREE!! It's easy and fun!
If you are binding a pre-printed item please use the Finishing order form.