Exporting Your Design – PDF Settings
---
Once you are done with your design we will require you to export to a PDF for submission.
There are multiple ways to export depending on the template and product you have chosen. Your artwork may require the bleed area and crop marks for finishing or cutting.
Each template will come with a PDF with specific instructions included that let you know if it requires Crops and Bleeds.
Some templates require you to export as single pages and other with the Print Booklet feature. Please check each templates instructions for specific guidelines.
>>>> The Full Bleed Saddle Stitch Booklet products require a different exporting process so please read those instructions in our How to Booklet for Saddle Stitch Booklets.
---
Go to File> Export 
Save your card with the settings for Adobe PDF Preset: High Quality Print and the format as Adobe PDF (Print).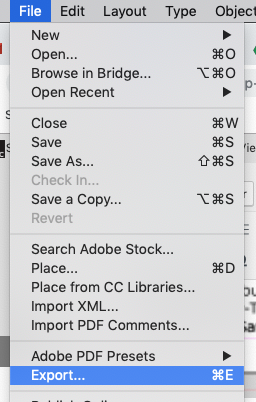 .
Rename your file so that you can identify it, and find it on your computer… your name or project name, version, etc.

In the bottom of the window be sure to choose for Adobe PDF (Print). 

---
PDF Settings – Very Important!
---
Once you click Save another window will pop up that has tabs along the left hand side.  Please check the following three areas. General, Compression, Marks and Bleeds and Output.
The settings will be dependent on the product you have chosen and the template instructions.
---
General
---
Under the Adobe PDF Preset >  PDF/X1a:2001 preset for printing at the Service Bureau.
Pages: Pages (NOT Spreads)
Export Layers: Visible & Printable Layers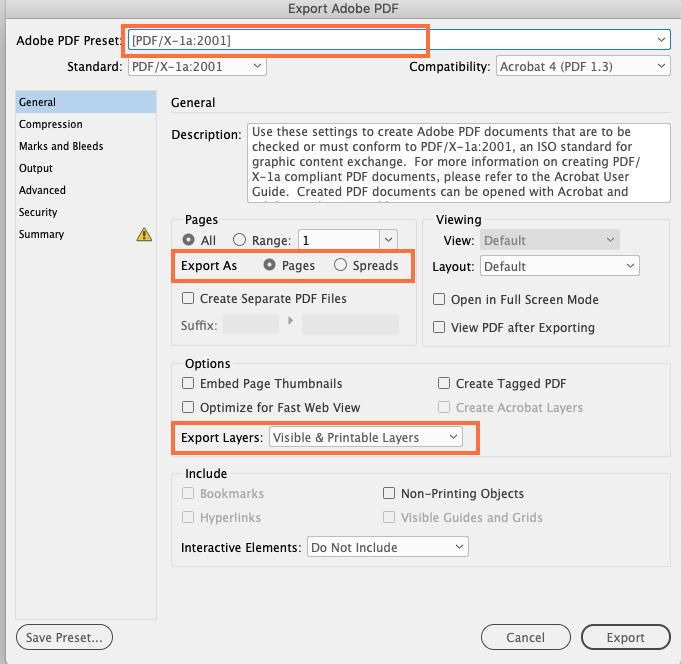 ---
Compression
---
When you are adding photos and other design elements to your file the size of the PDF you create can end up being very large. We do have a limit to the file size that we accept via the Digital Storefront and would like to keep the size of your file to a manageable level.
This window will downsample and compress your files to a size that is targeted to the limits of our printers and will not make your file any less quality when printed.
You can also adjust your files BEFORE placing them into InDesign to avoid any major changes to resolutions.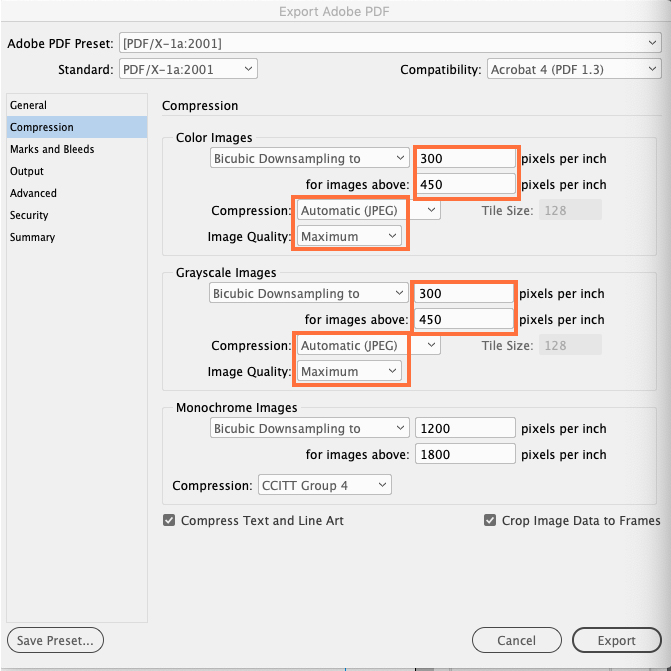 Bicubic downsampling to: is the slowest but most precise method, resulting in the smoothest tonal gradations.
All fo the resolutions should be set to 300 pixels per inch which is plenty for the high quality printers we use.
Compression: Choose one of the three to compress your file. It will depend on the type of artwork you are using. We ask that you do NOT choose NONE as your file will be too large to process in our printing software.
Automatic (JPEG) lets InDesign automatically determine the best quality for color and grayscale images.
JPEG applies a compression that is best for images with tonal changes.
ZIP applies a compression that is best for images with large areas of flat color.
Image Quality: Set to Maximum for the highest quality output.
---
Marks and Bleeds Settings
---
The Marks and Bleeds setting is very important and the settings are dependent on the template you have downloaded and the product you are submitting. Be sure to check the setting needed in your Instructions.pdf.
We will ask you to go to the Marks and Bleeds section….be sure you are inputting the correct info here.