There are 2 types of card templates for download:
Premium Finishing Services and DIY (Do-It-Yourself)
Please read carefully the differences between the two below before downloading the templates on their respective pages.
---

Business Cards on French Papers Speckletone True White Cover
---
Premium Finishing Templates
---
The Premium Finishing Templates are what you will use if we will be doing the cutting.
The Service Bureau Premium Finishing templates are made to help you easily and efficiently design your card and export a single file PDF which we will layout in multiples on a larger sheet for cutting.
These templates are specifically formatted for our Duplo Slitter Cutter Creaser and allows for bulk cutting of business cards, postcards as well as greeting, name, and exhibition cards to be done quickly and efficiently.
—-> There is an extra $5 fee for this cutting service. <—-
Go to the Premium Finishing Template to download our PFT Design Templates.
What print perfection? Check out our Checklist and the Artwork Guideline before submitting.
Custom Templates
If you have a card that does not fit into one of our templates and is a custom size we can create a cutting template for our Duplo Cutting machine for a $15 charge. 
You would send us one card (front and back) at the size you need it with the .125in bleed settings.
Please talk with a technician or staff member if you are interested in this option and we can assist with file set up. 
---
DIY Templates
---
Use these templates if you plan on cutting down your cards yourself.
Our Do-It-Yourself templates are made to help you easily and efficiently layout your images to best fit our available paper stocks. The DIY templates are great if you only need one or two of a specific card.
DIY Templates include: 8-up Business Cards, 2-up Postcards. 1 inch Buttons, 1inch Stickers, CD/DVD Labels, 4-up Labels and DVD Case Cover.
We will not bulk cut cards made with these templates. There is a large format cutter located outside the Service Bureau and rulers and blades are available for checkout.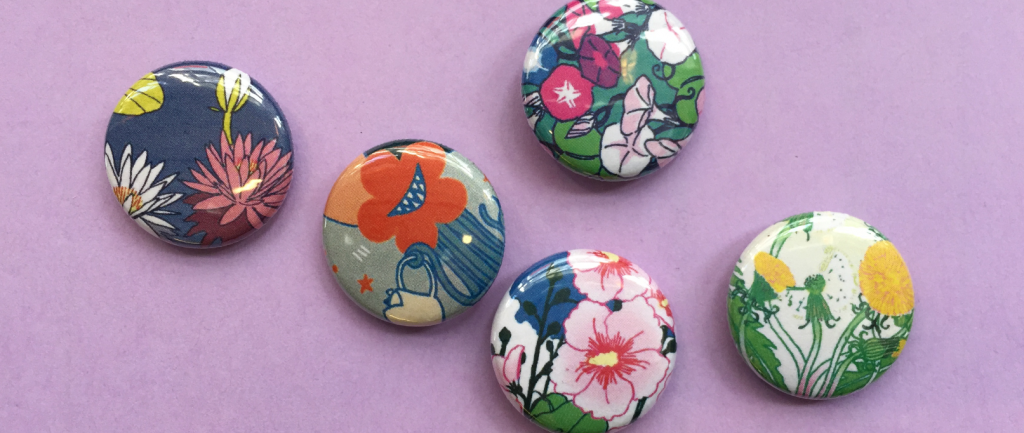 Buttons printed using Risograph and the Button Template